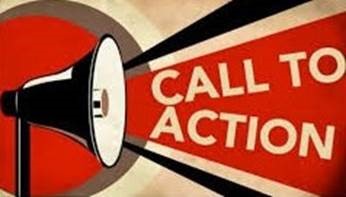 Rally For Candidates this Weekend!
Much is at stake
Dear Friends,
It is of great urgency that we Rally this weekend in support of our PPC or CHP candidates.  Gather friends, family and neighbours and hit the streets with signs in support of your candidate!  The MSM is not likely reporting on the party you are supporting so its up to each one of us to step up to help bring awareness before election day!
Concern over globalism and a loss of our National identity is a real threat but of equal, if not greater, concern is the Rise of Political Islam in Canada.  
Islamists are taking our elections very seriously and have been working tirelessly to promote the Muslim Vote. 
See below for details and statistics. 
Here is just one example of the messages being preached in the Mosques… Canadian Imam Younus Kathrada: "All Candidates In Upcoming Elections Are Evil,Filthy Non-Muslims Who Support Homosexuality, Zionism".   View Imams Message Here
There are only two parties who are openly addressing the very real threat of the rise of Islam in Canada…
Maxime Bernier with the PPC
List of PPC Candidates https://www.peoplespartyofcanada.ca/our_candidates
Party Platform https://www.peoplespartyofcanada.ca/platform
Party Platform Comparison Chart (libs, NDP, Greens) https://www.chp.ca/about/2019platform

Rod Taylor with the CHP
List of CHP Candidates https://www.chp.ca/candidates/
Party Platform https://www.chp.ca/about/2019platform
If you are unable to find your candidates contact info go to Elections Canada's Registered Association Database: https://www.elections.ca/WPAPPS/WPR/EN/EDA
It's not too late to Contact your candidate and see what you can do to help in these final days…phone calls, door knocking, gathering friends and family to hold up your candidate's sign on a busy street corner…whatever you are able to do….get out there…and be actively involved this weekend in positively influencing the election results!  Your country needs you!
The following link is to the old Yellow Vest Rally locations which many of you attended…time to once again Call on your fellow ralliers and request they join the campaign to support the Candidates…who…are working very hard to represent you in Ottawa!  https://www.unitedyellowvestscanada.ca/events
Please Share This Message!
Thank you and God Bless Canada!
Action4Canada
PS…if you have contacts who are considering voting Lib, NDP, Green…I highly recommend you forward the following reports….
ACT! For Canada News Letter …. Read Here
C3RF ….Read Here
And don't forget to share the report on "Andrew Scheer's Departure From Social Conservativism"… Share Here 
Since launching this report many contacts felt they could no longer support the CPC and cancelled their membership by contacting the CPC Head Office 1-866-808-8407
It is important the CPC hear from long standing members as to why they lost the vote.
========================
Oct. 16, 2019  Group Organizes Muslims to get out and vote…
https://www.insauga.com/group-organizes-campaign-to-get-muslims-out-to-vote
========================
April 2019 …. Calling on Muslims to Vote…
By 2036, Muslims are expected to make up to 7.2 per cent of the population of Canada, according to the latest projections from Statistics Canada in 2017.  According to the last national household survey in 2011, Canada is home to some one million Muslims. This year, CMV estimates the number of eligible Canadian Muslim voters is closer to 1.6 million. 
https://www.cbc.ca/news/canada/toronto/canadian-muslim-voters-2019-federal-election-1.5105355
=========================
The Canadian Muslim Vote's "Muslim Vote Weekend" Brings Muslims to Advance Polls in 64 Ridings, Including 20 "Toss Up" Races
The Canadian-Muslim Vote (TCMV) completed its "Muslim Vote Weekend" on Thanksgiving Monday, October 14, with Get Out The Vote sermons at 130 mosques bringing Muslim voters to Advance Polls in 64 ridings from Vancouver to Whitehorse to St. John's, Newfoundland.
Of these ridings, 20 have been declared as "Toss Up" races (predicted margin of victory at 5% or less) by 338Canada.com (see table below for list). Muslim voters posted photos to social media of themselves at the polls and social media influencers have been encouraging Muslims to vote with the caption "I'm voting because I matter."
https://muslimlink.ca/news/the-canadian-muslim-vote-s-muslim-vote-weekend-brings-muslims-to-advance-polls-in-64-ridings-including-20-toss-up-races
The Canadian-Muslim Vote was founded in 2015 with the mandate to educate and mobilize the estimated 767,000+ Muslim voters across Canada at all levels of government in a non-partisan way. It is estimated that in the 2018 Ontario provincial election Get Out The Vote campaign The Canadian-Muslim Vote had nearly 2-million touchpoints with the Muslim community. TCMV was also very active in both the 2018 Quebec provincial elections as well as the Ontario municipal elections in October 2018. In the recently concluded Alberta provincial election mosques used Friday sermons to encourage Muslims to vote. 
The table below lists the "Muslim Vote Weekend" ridings that have been declared as "Toss Up" (predicted margin of victory within 5% of votes) by 338Canada.com as of October 14. It includes TCMV's calculation of how many Muslim voters are in the riding, based on Statistics Canada models and custom tabulations, as well as a comparison with the number of votes needed to win based on 338Canada.com's prediction and the 2015 voter turnout. Note that in all but one riding the number of Muslim voters is within 1,000 votes of deciding the outcome.
For more information on the Canadian-Muslim Vote, please visit www.canadianmuslimvote.ca 
Table of Toss Up Ridings Covered by "Muslim Vote Weekend" (see explanatory notes below) 
Riding Province Predicted Margin of Victory (%) Muslim Voters Predicted Margin of Victory (Votes) 1st Place 2nd Place
Fleetwood-Port Kells BC 0.2% 3,268 98 CPC LPC
Sherbrooke QB 0.5% 1,391 287 BQ LPC
Markham-Stouffville ON 0.8% 4,446 478 LPC CPC
Québec QB 1.6% 700 862 LPC BQ
York Centre ON 1.7% 2,836 730 LPC CPC
 Davenport ON 1.9% 2,158 942 NDP LPC
 Yukon YT 2.3% 45 467 LPC CPC
Mississauga-Erin Mills ON 2.7% 14,104 1,494 LPC CPC
Halifax NS 2.9% 1,005 1,538 LPC NDP
Mississauga-Lakeshore ON 3.2% 8,289 1,792 CPC LPC
Scarborough–Agincourt ON 3.2% 5,473 1,330 LPC CPC
Hamilton East-Stoney Creek ON 3.5% 3,469 1,762 NDP LPC
Brampton Centre ON 4.0% 6,055 1,585 LPC CPC
Brampton South ON 4.2% 4,411 1,909 LPC CPC
Oakville ON 4.2% 2,637 2,718 LPC CPC
Toronto–Danforth ON 4.3% 3,391 2,390 NDP LPC
Sault Ste. Marie ON 4.3% 49 1,882 LPC CPC
Oakville North-Burlington ON 4.4% 3,843 2,675 CPC LPC
Richmond Hill ON 4.5% 10,611 2,210 CPC LPC
Brampton North ON 4.6% 5,165 2,216 LPC CPC
Call To Action!
Rally This Weekend, Support PPC & CHP Candidates!