Rally for Canada!
May 16th & 17th
**Special Notice below for Upcoming Rally in Ottawa on Canada Day! 
Concerned Canadians are peacefully rallying in cities across the Nation. 
Please join, or organize, a rally in a community near you and help send a message to the government;
we cannot, do not & will not accept the Covid hype as the
 "new normal".
It is destroying our economy, Canadian's livelihoods, and in violation of our Constitution and Charter Rights and Freedoms.
Contact Action4Canada at [email protected] to post a rally on this page.
Rally Tips, sign suggestions and your Rights –  Click Here
Saturday May 16
British Columbia
Surrey  – Guildford Mall Parking lot – Noon till 3pm  (Every Saturday)
Surrey  – 160th overpass – 11am – 1pm    (Every Saturday)
Langley – 232nd overpass, Hwy 1 – Noon – 2:30pm  (Every Saturday)
Chilliwack   – Meeting @ Eagle Landing Plaza PetSmart Parking lot. (exit 118 right off Hwy 1, drive North on Evans Rd) Noon -2pm (Every Saturday)
Merritt  – Corner of Nicola and Voght beginning @ Noon 
Kelowna – City Hall – 2 – 4pm
Nanaimo – Overpass @ intersection & Hwy 19A (Island Highway) near the Cheveron Station.  (Meet on South side of the hwy (Chrysler dealer) and walk over together.   11am-1pm
Alberta
Calgary – Harvest Hills Boulevard NE and 96th Avenue NE – NE corner  of intersection by the 7-11.
**May 23rd the rally will return to ….. Mount Royal Village – Corner 17th Ave. SW and 8th St. SW – 11am – 2pm 
Calgary – City Hall – 800 MaCleod Trl  SE –  12 – 3pm   **Every Saturday
Edmonton – Legislature Building – 2pm
***EXTRA GUN RALLY IN EDMONTON AT THE LEGISLATURE BUILDING. – SUNDAY MAY 10 AT 2 pm
Lethbridge – Every Saturday downtown  (no time given…noon may be a safe bet)
Red Deer – Rallies organized by Yellow Vests.  Changing locations…will try to find out more info by next week.
Sundre – Rallies temporarily on hold
Manitoba
Winnipeg – 450 Broadway Legislative Building – 2pm
Regina – City Hall – 2405 Legislative Dr. – 12 – 3pm  **Every Saturday
Saskatchewan
Saskatoon – City Hall – 222 3rd Ave. N – 12 – 3pm **Every Saturday
Ontario
Niagra Falls – City Hall – 4310 Queens St. Niagra Falls – 11am – 1pm
Toronto – Every Saturday at Queens Park – 111 Wellesley St. W –   12 noon til 3 pm
Windsor – Yellow Vests organizing, changing locations – hope to have more info by next week. 
Ottawa – Centennial Flame – 12 – 3pm  **Every Saturday
Sunday May 10th
British Columbia
Vancouver, BC  –  5022 Joyce St.  2-4 pm  (organized by Marco Pietro)
The following video explains in 3 minutes why the government-mandated Covid-19 lockdowns are ineffective and harmful.   View Here  and Click Here
Canada Day  –  July 1, 2020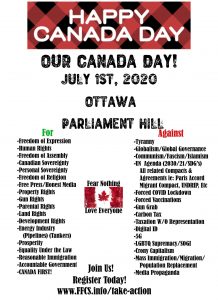 Disclaimer:  Action4Canada only supports peaceful rallies and is not responsible for rallies organized by any other group.  We are willing to advertise the events to connect people in different communities if they abide by this standard.