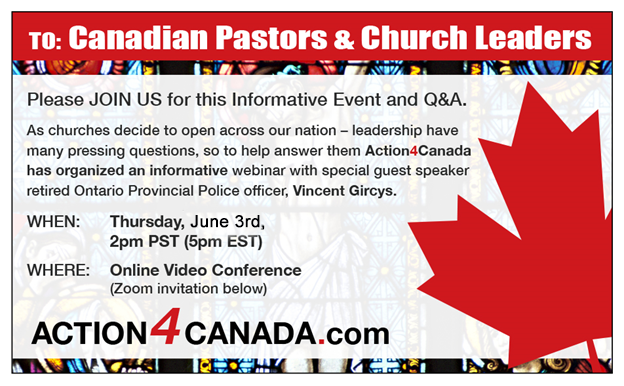 Protect Our Rights To Worship
Dear Pastors and Church Leaders,
Join Action4Canada and retired OPP Officer Vincent Gircys on Thursday, June 3rd at 2pm PST (5pm EST) for an information session to support staff and church leadership in opening the doors of their churches and keeping them open. Vincent Gircys will deliver information in upholding your rights of worship based on section 173 (1-3) of the Criminal Code and the Charter of Rights and Freedoms
Please visit Action4Canada's Church resource page for No Trespass signage, printable pdf's on Charter Rights, filing complaints, etc. 
ZOOM Meeting Link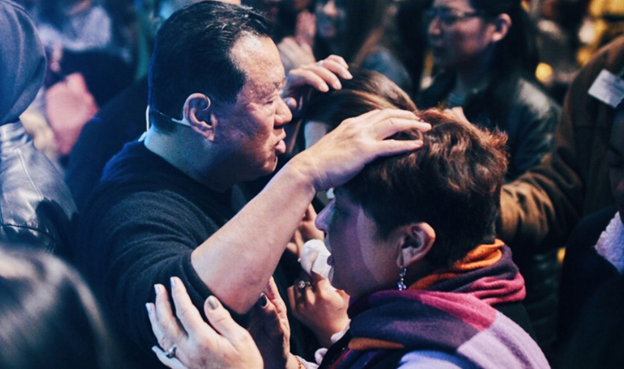 California must now pay $1.35 Million In Harvest Rock Church Settlement
 "We have won the fight!" In response to Harvest Rock Church's lawsuit, the full and final settlement was approved today through the District Court," said Harvest Rock Church. Equally important, the state of California can no longer impose restrictions on churches or worship.
 Read More
Victory for Full Gospel Outreach Centre After Prosecutor Tosses $14,000 No Mask Fine
Although Prince Albert (Sask.) mayor Greg Dionne imposed fines on Pastor Vern Temple and his church, prosecution dropped all charges and fines. 
Read More
Pastor Jacob Reaume – Great Short Message. 
You reject God – you get the tyranny of the state. God sends Tyrants to teach people lessons until they cry out to the Lord and then He sends deliverance.
James Coates Interview – This interview will encourage, edify and challenge you. 
Action

4

Canada
is here to offer support to churches who are ready to open. If you have any questions please do not hesitate to email us at
[email protected]
and one of our pastoral support team will be more than happy to assist you.
Please consider a donation as we are a not-for-profit and rely solely on the contributions of our donors to support the work we are doing.
God Bless,
The Pastoral Team
@ Action4Canada
Ron Rehwald – Pastoral Support Lead