Medical Directive/Union NOL/Unionized Workers Unite!
Calling All Union Members!
Time to Take Action!

Union representatives are unlawfully practicing medicine and are in serious breach of the employee collective agreements by prescribing, recommending, facilitating, advertising, mandating, incentivising, encouraging, recommending, threatening, intimidating, and using coercion to pressure union members to comply with any medical treatment, including wearing masks, COVID-19 testing or submitting to ANY vaccine, including the experimental COVID-19 injection, commonly referred to as a "vaccine." 
The Union's responsibility and obligation is towards the employment security and health and welfare of its individual and collective membership. Members should accept nothing less.  Serve a Notice of Liability today!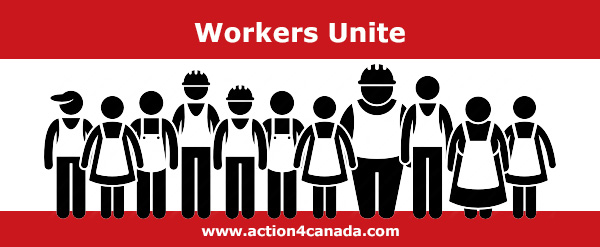 In response to the overwhelming number of unionized workers in varying sectors, requesting help, Action4Canada has created a group to provide support and to unite ALL union members: nurses, teachers, police, fire, maintenance, etc.
We will provide the opportunity for each sector to meet both separately and as a whole. There is strength in numbers and it is time to come together nationally to support each other and unify our campaigns and initiatives. More Info
Advance Medical Directive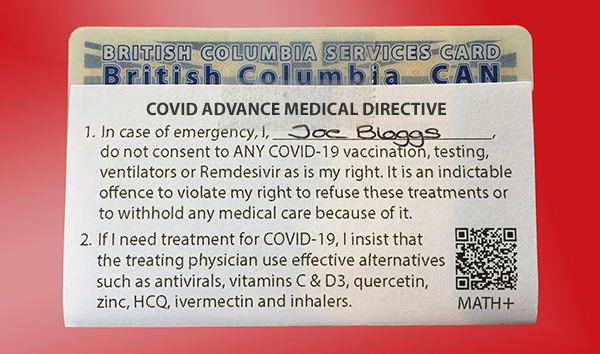 If you are concerned about the possibility of one day ending up in the hospital as a result of an emergency and being administered the jab without your consent, then sign the Advance Medical Directive and attach it to your medical card. The Directive clearly states your non-consent to ANY COVID-19 vaccination, testing, ventilators or Remdesivir, as is your right. Should you need treatment for COVID-19, it further gives instruction to use effective alternatives such as antivirals, vitamins C & D3, quercetin, zinc, HCQ, ivermectin and inhalers.
We request a minimum $5 donation per page (includes 4 cards).
Please consider becoming a monthly donor and help Action4Canada continue to bring solutions and hope to the nation.
Thank you and God Bless Canada!
The Team @
Action4Canada
Action4Canada accepts no responsibility or liability for any harms or losses that occur as result of delivering this notice to anyone. If you do not agree to these terms then please do not use this notice. We do not make any representations or warranties about the potential consequences of delivering this Notice of Liability (eg. removal of child from a private school).
Disclaimer:  This information is not intended to be used as legal or health advise. We encourage you to do your own research.