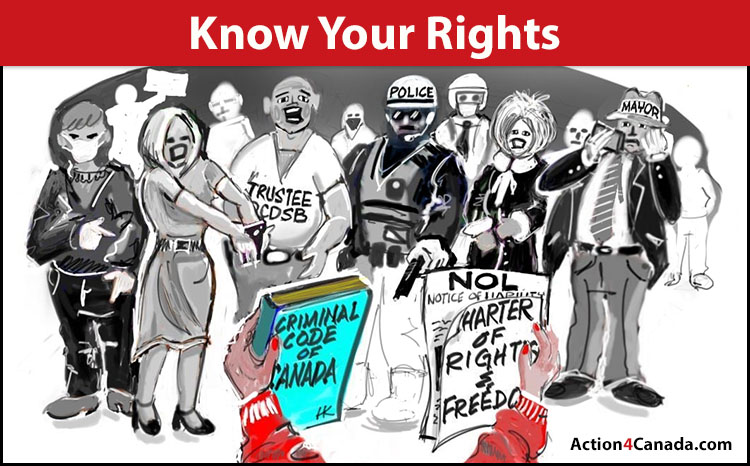 We peacefully assemble and engage government officials because we have a moral and ethical duty to do so. It is critical that this engagement be consistent and ongoing in order to confront and curtail government overreach and any agenda to interfere with our democracy and/or violate our God-given unalienable rights and freedoms. The freedom to peacefully protest, freedom of speech, thought and belief, privacy, and the right to work are all protected rights and freedoms according to the Constitution and the Charter of Rights and Freedoms.
Police, elected officials, educators, government employees, and lay people do not have the right to hinder or prohibit citizens: from expressing their opinion or concerns; engaging the public; or participating in all levels of civic engagement.
To help Canadians assert their rights, Action4Canada has created the following resource. You can print it, or have it available on your phone for quick access, should your freedom of speech or rights be infringed upon or if you are prohibited from attending a meeting or event eg. council meeting, school board meeting, rally or other event. Access the Resource HERE.

Know Your Rights and Assert Them!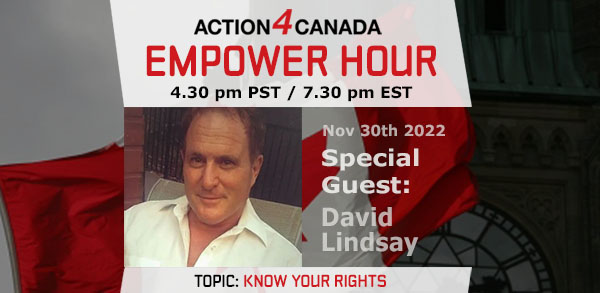 When: Wednesday, November 30, 2022 4:30pm PST/7:30pm EST Register in Advance. The zoom doors open at 4:30pm PST and the Empower Hour begins at 5pm PST/8pm EST.
We are pleased that David Lindsay, co-founder of Common Law Education and Rights (CLEAR), is joining us once again on the next Empower Hour. Tanya and David will be discussing Canadian's guaranteed rights and how to assert them confidently and knowledgeably when approached by law enforcement or other officials. We will also discuss the origins and Constitutional rights of people to practice peaceful civil disobedience.

Civil disobedience is a time-honoured tradition involving the active, but non-violent, refusal to obey unlawful demands or commands dictated by a corrupt government when they are considered to be morally wrong or detrimental. In Canada's case, the government is committing egregious  constitutional and human rights violations which MUST be opposed. Read More and Share the Empower Hour HERE.
Dr. Peter McCullough: The Courage To Face Covid-19
In case you missed it, last week's Empower Hour with Dr. Peter McCullough is highly recommended. Dr. McCullough and Tanya Gaw do a deep dive and discuss the Covid-19 fraud, the harms of the experimental injections, deaths, shedding, treatments, and much more. You will find answers to some of your most pressing questions related to the jab and its adverse reactions on both the jabbed and unjabbed.  
As Promised: Dr. McCullough's Treatment Protocol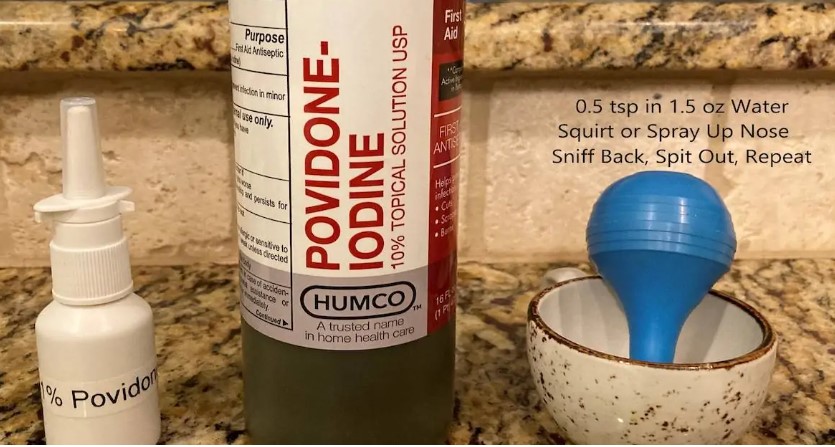 Dr. McCullough developed a "Treatment and Prevention for COVID-19 or Sinusitis with Oral and Nasal Solution Preparations."
"The virus is transmitted in the air and settles in the nose, and multiplies for days before it invades the body. When sick with nasal congestion, headache, fever, and body aches, the source of symptoms is the virus in the nose. If you feel you are coming down with a sinus or throat infection and are without antibiotics, Dr. McCullough recommends a simple mouthwash/gargle solution and nasal spray that can be easily prepared at home. The following preparations act as both a preventative as well as a treatment. The main ingredient is 10% povidone-iodine (e.g. Betadine) which is a potent anti-microbial product effective against a wide range of infections including bacterial, viral, and fungal organisms. In clinical trials, a povidone-iodine (PVP-I) solution as dilute as 0.23% has been shown to be 99.99% effective as an antiviral treatment (in vitro) in just 30 seconds."  In addition, review Dr. McCullough's Covid Patient Treatment Guide. 
The Greatest Organized Crime in History!
Justice is coming! Individuals and organizations around the world are pursuing legal actions against the perpetrators of these crimes against humanity.
Action4Canada is one of the only major organizations in Canada pursuing a Constitutional challenge of this magnitude. We will have an update shortly on when we are filing the further Statement of Claim (SOC) and details on the appeal. Follow our legal updates here. There are no further costs to filing the new SOC but there are additional costs for the appeal. Please consider donating and thank you in advance for your continued support.
If you are in need of prayer please reach out to our Prayer Team @ [email protected] 
Remember: Freedom of speech, thought, belief and the right to life, liberty and security of the person are guaranteed. We do not need to beg, barter or ask for them…these are God-given inalienable rights and ours for the taking..
As Action4Canada continues to courageously defend Canadians rights and freedoms we ask that you would please consider courageously giving, either a one time donation or becoming a monthly donor.  Help Action4Canada continue to bring solutions and hope to the nation!
God bless you and God bless Canada!
The Team @
Action4Canada