Thursday July 29th, Pastors and Church Leaders: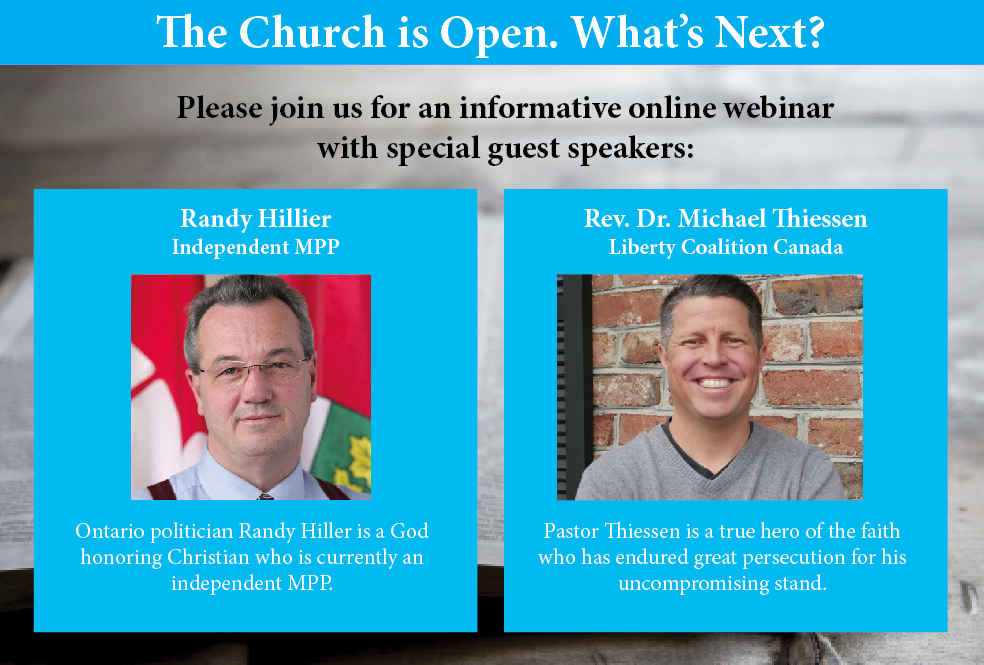 When: Jul 29th, 2021 2:00pm PST/5:00pm EST
Register in advance. After registering, you will receive a confirmation email.
We look forward to you joining us for a time of insightful and inspiring conversations with MPP Randy Hillier and Rev. Dr. Michael Thiessen. 
Randy Hillier, Independent MPP: Ontario politician Randy Hiller is a God honoring Christian who is currently an independent MPP. Hillier was elected as a Progressive Conservative MPP for Lanark—Frontenac—Kingston during the 2018 Ontario general election, having previously represented this riding from 2007 to 2018.
MPP Hillier has been vocal in exposing the draconian emergency measures of both the federal and Ontario provincial governments. As a result, the Ford Progressive Conservative party expelled MPP Hillier after he was accused of not being a team player. 
This did not stop Independent MPP Hillier from continuing to proclaim the truth and to speak out in defiance against the harmful lockdowns and assault against individual freedoms and human rights. One specific area of contention is the governments attack against the church. As a committed Christian MPP Hillier has risen in defense of Canadians God-given inalienable right to assemble. 
Rev. Dr. Michael Thiessen, Liberty Coalition Canada: With a heart for training and mentoring young adults and pastors and advancing both church and cultural renewal, Pastor Michael Thiessen also serves Liberty Coalition Canada as Co-Founder and President.
Pastor Thiessen is a true hero of the faith who has endured great persecution, criticism and numerous tickets for his uncompromising stand to remain open and minister to the people God has called him to serve.
Pastor Thiessen is also co-author of the Niagara 2020 Declaration, an initiative written in response to the cultural shift to a godless nation. The Declaration "originated in a gathering of Christian leaders in the Niagara region in the fall of 2020, the document is a humble attempt to rally the Christian Church in this nation around a common declaration as it relates to church and state and the protection of our civil liberties. History proves that freedoms not fought for are soon forfeited; if the church loses its freedom, freedoms will be lost for all. We can no longer afford to be complacent. For the sake of our children and grandchildren, our neighbours who need the Gospel, and our beloved nation of Canada, we must prayerfully and courageously seek to stem the tide to the glory of God and for the kingdom of His dear Son."  
We look forward to you joining us and hearing more of MPP Hillier and Pastor Thiessen's testimonies. We believe you will be encouraged and blessed.
Thank you, God bless you and God bless Canada!
The Pastor Team
@ Action4Canada