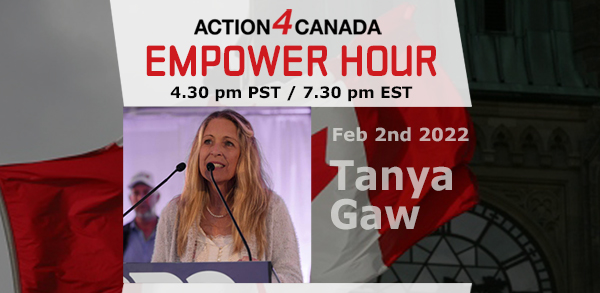 When: February 2, 2022.  The Empower Hour starts at 4:45pm PST/7:45pm EST with an Intro Presentation to Action4Canada. At 5pm PST/8pm EST the Empower Hour begins. Closed captioning is available for the hearing impaired. Register in Advance
Join Tanya this week as she provides more updates, good reports, strategies, Calls to Action and then opens it up to Q&A. 
Freedom of speech, thought, belief and the right to life, liberty and security of the person are guaranteed. We do not need to beg, barter or ask for them…they are ours for the taking.
Please consider becoming a monthly donor and help Action4Canada continue to bring solutions and hope to the nation!
God bless you and God bless Canada!
The Team @
Action4Canada