Digital ID/Government Corruption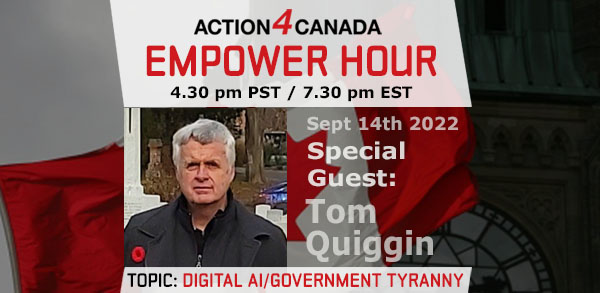 When: Wednesday, September 14, 2022 4:30pm PST/7:30pm EST Register in Advance. The zoom doors open at 4:30pm PST and the Empower Hour begins at 5:00 pm PST/8pm EST.
Special Notice: We are returning to our previous start time of 4:30pm PST/7:30pm EST and re-introducing the A4C Orientation, which highlights our resources and critical campaigns, at 4:45pm PST/7:45pm EST for newcomers to Action4Canada.
Tom Quiggin joins Tanya to discuss the massive agenda to implement Digital ID for the purpose of creating a tyrannical social credit system that will ultimately give the government total control over its citizens. You can't miss this Empower Hour…Knowledge is Power! Being informed and practising non-compliance is key to stopping this agenda. Register in Advance
About our Guest:
Thomas Quiggin, (M.A, C.D.) is a court qualified expert on terrorism in both the Federal and Criminal Courts and is also a court expert on "the reliability of intelligence as evidence." (Federal Court). Tom is a Senior Fellow at S. Rajaratnam School of International Studies at the Nanyang Technological University, Singapore. He has 30 plus years of practical intelligence experience in a variety of positions. These include the Royal Canadian Mounted Police, the Bank of Canada, the Canadian Armed Forces, the United Nations Protection Force in Yugoslavia, Citizenship and Immigration Canada (War Crimes), the International War Crimes Tribunal for the former Yugoslavia (The Hague), and the Privy Council Office of Canada. He was also a qualified arms control inspector for the Conventional Forces in Europe Treaty and the Vienna Document. He has testified before the Senate and House of Commons committees as well as the Air India Inquiry (Commission of Inquiry into the Investigation of the Bombing of Air India Flight 182)
He is an Intelligence Analyst, Security & Operational Risk Manager, and a Research Analysts Expert.
Much of Tom's current research work is focused on issues of free speech, extremism, and social unrest. During Freedom Convoy 2022, he assisted convoy operations by providing protective intelligence assessments to the Convoy, police forces and others.
Tom is the author and co-author of numerous books:
Tom has a sole author book on national security intelligence requirements titled "Seeing the Invisible: National Security Intelligence in an Uncertain Age". He was also the lead author of the book "SUBMISSION: The Danger of Political Islam to Canada with a Warning to America."
His most recent book, published on June 23, 2021, is a fictional spy thriller which examines the dangers of the Great Reset movement to Europe and North America. The book is titled "The New Order of Fear" and is part of the Great Reset Trilogy.
Another book by Tom Quiggin and Rick Gill is, "Eye Witness to Deceit: Trudeau's Info War on Freedom Convoy 2022" Preface by RCMP Corporal Danny Bulford.
Be sure to join us on Wednesday, September 14, 2022 as Tom and Tanya as they discuss this critical issue. Read the weekly email with info related to this topic HERE.
If you are in need of prayer please reach out to our Prayer Team @ [email protected] 
Remember: Freedom of speech, thought, belief and the right to life, liberty and security of the person are guaranteed. We do not need to beg, barter or ask for them…these are God-given inalienable rights and ours for the taking..
As Action4Canada continues to courageously defend Canadians rights and freedoms we ask that you would please consider courageously giving, either a one time donation or becoming a monthly donor.  Help Action4Canada continue to bring solutions and hope to the nation!
God bless you and God bless Canada!
The Team @
Action4Canada