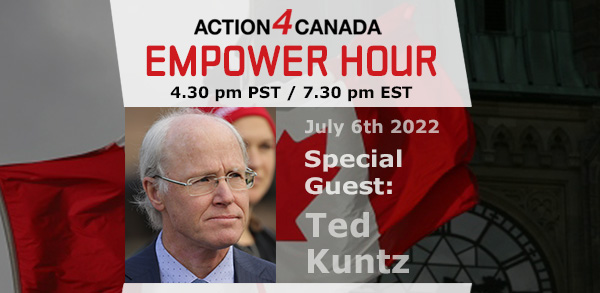 When: Wednesday, July 6, 2022 4:45pm PST/7:45pm EST Register in Advance
Ted Kuntz, the President of Vaccine Choice Canada, joins Tanya to discuss the growing awareness that childhood/adult vaccinations are causing much greater harm than good. 
Ted Kuntz is a father, a grandfather, medical choice activist, author, and educator. His journey to examine the claims of the vaccine industry began after his son Joshua was neurologically injured by the DPT injection in 1984.
What Ted learned is that the medical industry has been systematically and intentionally dishonest with health consumers on the safety, effectiveness and necessity of vaccinations.
Ted believes that the organized and intentional effort to deny citizens their right to make medical decisions for themselves and their children is one of the greatest threats to humanity today.
If we lose the capacity for choice over what is injected into our self and our children, then we are no longer free citizens. Protecting medical choice and demanding honesty, transparency, and accountability are the most important issues in Ted's life today.
Ted is the current President of Vaccine Choice Canada.
His books include:
– Dare to Question – One Parent to Another. *The website has a free download of this book and other resources.
– Peace Begins With Me – An Inspirational Journey to End Suffering and Restore Joy
– How Can I Wake Up When I Don't Know I'm Asleep
To learn more about Vaccine Choice Canada, visit www.vaccinechoicecanada.com
To view our main page on this matter visit: Medical Alert: Big Pharma is Out of Control
Remember: Freedom of speech, thought, belief and the right to life, liberty and security of the person are guaranteed. We do not need to beg, barter or ask for them…they are ours for the taking.
Please consider becoming a monthly donor and help Action4Canada continue to bring solutions and hope to the nation!
God bless you and God bless Canada!
The Team @
Action4Canada