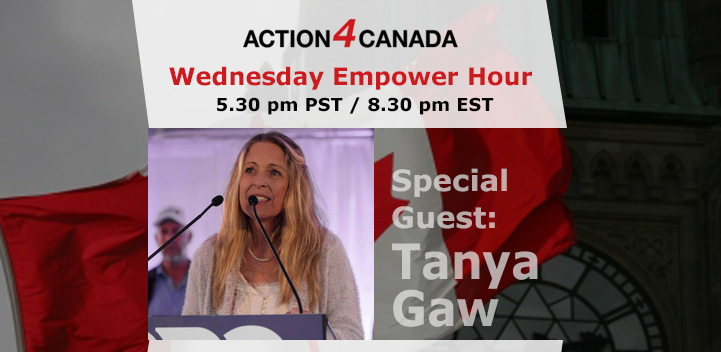 When: December 15th, 2021. Sign on starts at 05:30pm PST/8:30pm EST Register in Advance.
The meeting starts at 5:45pm PST/8.45pm EST with an Intro Presentation to Action4Canada. At 6pm PST/9pm EST the Empower Hour begins. Closed captioning is available for the hearing impaired.
The Empower Hour this week is with Tanya Gaw, founder of Action4Canada.  Tanya will review A4C resources which are critical to protecting and empowering Canadians. Tanya will also discuss the rising opposition against the success of the Notice of Liabilities, including from those who should be on our side. There will also be a time of Q&A.
Action4Canada is having success in pushing back against the government tyranny using the Notices of Liability. Tanya will provide further updates on next steps, such as laying criminal charges.
Please consider becoming a monthly donor and help Action4Canada continue to bring solutions and hope to the nation!
God bless you and God bless Canada!
The Team @
Action4Canada