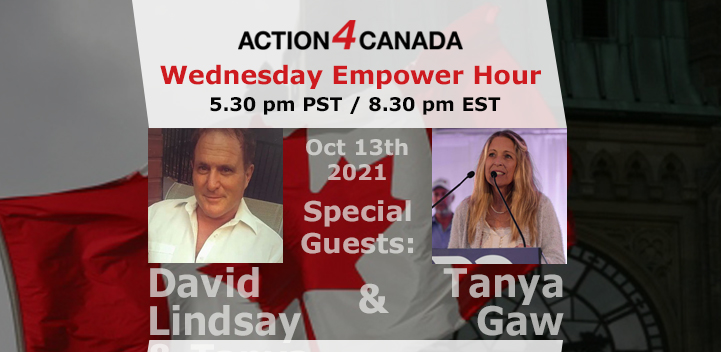 How to Hold People Liable When Your Rights are Being Violated
When: October 13th, 2021. Sign on starts at 05:30pm PST/8:30pm EST Register in Advance. 
The meeting starts at 5:45pm PST/8.45pm EST with an Intro Presentation to Action4Canada. At 6pm PST/9pm EST the Empower Hour begins. Closed captioning is available for the hearing impaired.
David Lindsay will once again join Action4Canada's founder, Tanya Gaw, in an critical conversation to address the next steps in asserting our guaranteed rights and freedoms. Tanya will provide updates on the increasing success stories in response to the legal action and Notices of Liability.  We will as well hear from a business owner who is holding the line and remaining open while he respects the individual rights of his patrons. 
We will also further discuss David's E-book on how to file criminal charges against other citizens, "The Annotated Criminal Code Procedure in Canada," which is available by emailing David at [email protected]
Remember: Freedom of speech, thought, belief and the right to life, liberty and security of the person are guaranteed. We do not need to beg, barter or ask for them…they are ours for the taking. 
Register in Advance. After registering, you will receive a confirmation email.
To listen to last weeks Empower Hour View HERE.
Please consider becoming a monthly donor and help Action4Canada continue to bring solutions and hope to the nation!
God bless you and God bless Canada!
The Team @
Action4Canada