The Government is Losing Grip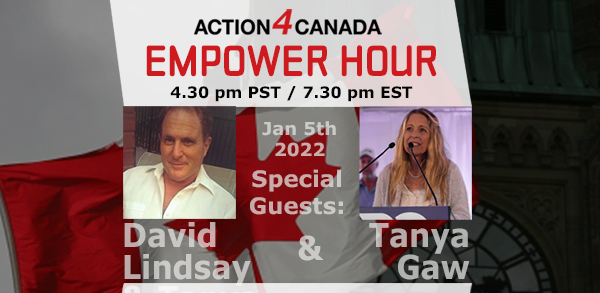 Empower Hour: Wednesday Jan. 5, 2022. Note NEW Start Time – We begin an hour earlier at 4:45pm PST/7:45pmEST Register in Advance
The government is losing their grip on the the pandemic narrative and in their desperation they are attempting to take down their adversaries using whatever tactics they can contrive. In doing so they are only exposing themselves further and providing additional evidence as they continue to violate the protected rights of citizens.
David Lindsay will once again be our special guest. David happens to be in the line of fire and is one such patriot that the government is attempting to silence due to his effective work throughout the Okanagan and his alignment with Action4Canada and partnering with us in the laying of private information (criminal charges) against citizens who are committing indictable offences such as extortion, intimidation and assault.
Tanya will start the hour off outlining Action4Canada's plans for 2022 and then dive into learning the truth behind the lies as we discuss with David the recent government/media attack including a defamatory, libelous and misleading report by a two-bit fake news rag, Castanet. We will also include a time of Q&A. 
Register in Advance. After registering, you will receive a confirmation email.
To listen to last week's inspiring Empower Hour spotlighting A4C Chapter leaders and their exciting successes nationwide, View HERE.
Please consider becoming a monthly donor and help Action4Canada continue to bring solutions and hope to the nation!
God bless you and God bless Canada!
The Team @
Action4Canada
Disclaimer:  This information is not intended to be used as legal or health advise. We encourage you to do your own research.