Join the Campaign to End the Persecution of Christians in Canada!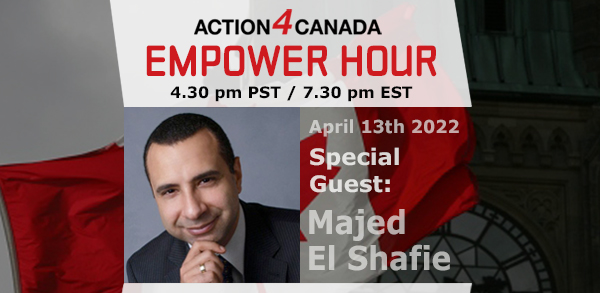 When: Wednesday, April 13, 2022 4:45pm PST/7:45pm EST Register in Advance
Rev. Majed El Shafie, Founder of One Free World International (OFWI) joins Action4Canada to discuss the rising persecution of pastors and Christians in Canada, as well as address the egregious human rights violations that are occurring at the hands of our tyrannical government.
Action4Canada is pleased to announce that we are joining forces and partnering with OFWI to commence an historical campaign against the corrupt officials involved at all levels of government, as well as directors and people in positions of authority, for abusing their power causing extreme harm, the persecution of Christians, including torture and other human rights offenses. Together we will advocate for the fundamental human and constitutional rights of all Canadians.
But we need your help! In order to defend Canadian pastors and citizens we need to take this to the courts as well as confront government leaders head on. Majed has a team of lawyers and a great deal of experience in dealing with human rights violations. OFWI has been involved in 600 cases worldwide and has a 100% success rate!
Canada is experiencing an unprecedented attack from within our own government who is rapidly executing an agenda meant to destroy our freedoms and democracy. They have been incrementally implementing their agenda over decades by conditioning Canadians to accept small adjustments to their Christian convictions and moral compass, leading to a massive decay of society.
It is critical to raise funds for this campaign. Please Donate Here to the "Legal Fund – Persecuted Canadian Christians Campaign"
More About Our Guest:
Majed El Shafie is a human rights advocate and founder of One Free World International (OFWI). His human rights journey started in his native Egypt that he was later forced to flee after he was severely tortured and sentenced to death for his conversion from Islam to Christianity and bringing awareness to human rights violations related to religious persecution.
Belonging to a very prominent legal and political family in Egypt, Majed had tried to work within the Egyptian system to reform the country's human rights regime. Between the challenges he faced in these efforts, his firsthand experience as a survivor of religious persecution, the work he has engaged in since by advocating for religious freedom, confronting governments that violate this fundamental right, and conducting fact-finding missions and humanitarian/rescue operations, he has obtained significant knowledge and insight into the dynamics of persecution of religious minorities by religious extremists and totalitarian governments alike.
El Shafie has established two effective human rights organizations including One Free World International, which is one of the leading organizations advocating for religious minorities globally and has 28 branches around the world. He has organized and led delegations of parliamentarians and religious leaders to address minority rights and humanitarian issues with government leaders, including several cabinet ministers and other high-level officials, opposition leaders, and religious leaders among others, in countries such as Pakistan, Afghanistan, Iraq, Israel, Cuba, India, and Bangladesh.
El Shafie has developed excellent relationships with members of the Canadian House of Commons, Senate, and Cabinet, and has built bridges with the US Congress in order to educate decision-makers about violations of religious freedom around the world. He has had the opportunity to testify numerous times before parliamentary bodies including the Subcommittee for International Human Rights, the Standing Committee on Foreign Affairs and International Trade, the Standing Committee on Citizenship and Immigration, United States Congressional subcommittees and commissions, and the Parliamentary Inquiry into Antisemitism in Canada. He has advocated on behalf of Christians, Falun Gong, Jews, Bahá'í's, Ahmadiyya Muslims, and China's Uyghur Muslims, among others. Leading North American and international news media have featured his work which has also been the subject of an award-winning feature-length documentary.
HONOURS AND AWARDS:
2016 Raoul Wallenberg Citation for Moral Courage
2012 Queen Elizabeth II Diamond Jubilee Medal
Majed also wrote a book: Freedom Fighter. The book is an account of Reverend El Shafie's outreach—it follows his heroic work over a four-year period as he traveled to Pakistan and Afghanistan to investigate claims of abuse, persecution, and slavery and to speak truth to governments that neglect and violate the human rights of their citizens.
You will not want to miss the launch of this historical campaign so remember to Register in Advance for the Empower Hour.
Remember: Freedom of speech, thought, belief and the right to life, liberty and security of the person are guaranteed. We do not need to beg, barter or ask for them…they are ours for the taking.
Please consider becoming a monthly donor and help Action4Canada continue to bring solutions and hope to the nation!
God bless you and God bless Canada!
The Team @
Action4Canada