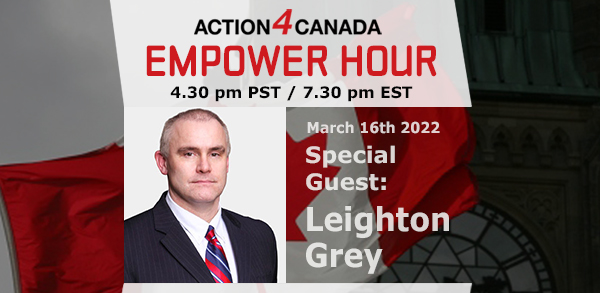 When: Wednesday, March 16, 2022 4:45pm PST/7:45pm EST Register in Advance
Follow Leighton: https://linktr.ee/greymatterlinks
Joining us for this week's EMPOWER HOUR is Leighton Grey. Leighton is the Senior Managing Partner & Head of Civil Litigation with Grey Wowk Spencer LLP, based in Calgary, Edmonton, and Cold Lake, Alberta. Leighton's focus is on criminal law, child welfare proceedings, personal injury, and other forms of civil litigation.
Since 2020, Leighton has acted as lead counsel in several high profile Constitutional cases, including James Coates & Grace Life Church, Timothy Stephens and his Church in Calgary, the Lockdown challenge involving Dr. Deena Hinshaw, Chief Medical Officer of Health, Alberta, and various vaccine mandate cases involving CN, CP, AHS, The University of Winnipeg, The University of Alberta, Mount Royal University, The Salvation Army, BDC, and others.
In 2020, Leighton also experienced a "cancel culture" attack which was orchestrated by the CBC and NDP Government, based on his conservative views. Leighton was appointed to the Provincial Court Nominating Committee in April of 2020 and due to the attack resigned from his position. The attack was in response to Leighton posting his opinions on-line regarding black lives matters, Soros, the 'vaccine' and other hot topics.  
As part of the Committee to appoint Alberta judges, Leighton had the right attitude, stating, "I shall consider it my mission to help select the most qualified candidates, regardless of their race, gender, age, religion, sexual orientation or political affiliation. In short, I pledge to have no regard for identity politics of any kind. Lady Justice does wear a blindfold after all."
More about our guest: 
Leighton graduated from the University of Alberta, where he earned degrees with distinction in Arts (English Literature) and Law. He was admitted to the Bar of Alberta in 1993, the Bar of Saskatchewan in 2004, and the Bar of British Columbia in 2014, and he has been a member of the Queen's Counsel since 2009. He received his certification in the Harvard University Model of Interest-Based Mediation through the University of Windsor School of Law in 2011.
Leighton's list of accomplishments is impressive & diverse, and includes:
N.E. Director for Alberta Civil Trial Lawyers Association since 1998

Recipient of the Stars of Alberta Volunteer Award (2013)

Recipient of the Access to Justice Award (2015) for his work with the Legal Aid Society of Alberta.

Recipient of the Gary J. Bigg Humanitarian Award (2019)

Founder and president of Lakeland Sports and Learning Academy (a non-profit organization that creates and delivers athletic programs to youth in Cold Lake & surrounding areas) 

Appointed to Noble Title of Count von Falkenstein in December of 2021
Leighton is a proud Albertan, Canadian, conservative, and tireless advocate for restoration and rehabilitation of the civil liberties guaranteed to all of us by God and the Rule of Law (in that order) as enshrined under the Canadian Charter of Rights and Freedoms. 
Remember: Freedom of speech, thought, belief and the right to life, liberty and security of the person are guaranteed. We do not need to beg, barter or ask for them…they are ours for the taking.
Please consider becoming a monthly donor and help Action4Canada continue to bring solutions and hope to the nation!
God bless you and God bless Canada!
The Team @
Action4Canada