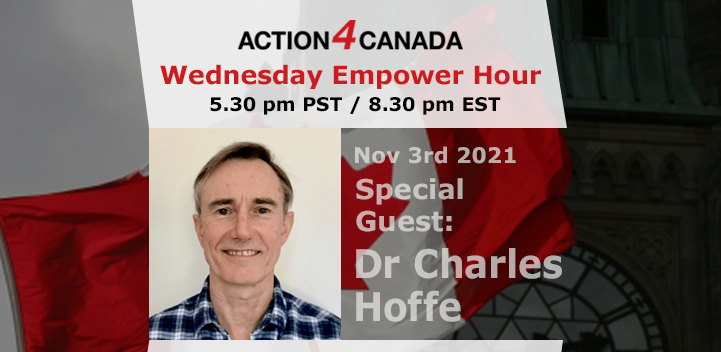 When: November 3rd, 2021. Sign on starts at 05:30pm PST/8:30pm EST  Pre-registration Zoom Link
The meeting starts at 5:45pm PST/8.45pm EST with an Intro Presentation to Action4Canada. At 6pm PST/9pm EST the Empower Hour begins. Closed captioning is available for the hearing impaired. 
Join us this week with our special guest Dr. Charles Hoffe.

Dr. Hoffe is a respected physician with nearly 3 decades of experience who was working in the small town of Lytton, BC. After one of his patients died and another six had adverse reactions as a result of the Moderna vaccine, Dr. Hoffe wrote an open letter to Bonnie Henry expressing his
concerns.

Dr. Hoffe also raised his concerns with the BC College of Physicians; they immediately implemented a gag order and reprimand, in an attempt to intimidate and silence him. Out of respect for his patients and because of his grave concern over the debilitating side effects he was seeing, Dr. Hoffe chose to defy the gag order.
The so-called medical 'experts' in our country continue to tell an unsuspecting public that blood clots resulting from the COVID injections are rare, but when Dr. Hoffe began doing D-dimer tests (used to find out if a patient has a blood clotting disorder), he was alarmed to discover that over 60% tested positive for elevated D-dimers.
Dr. Hoffe has become a sought-after speaker, and continues to campaign for medical truth. He is a man of faith and integrity, and we are grateful for the opportunity to have him as a guest on the EMPOWER HOUR.
Register in Advance. After registering, you will receive a confirmation email.
To listen to last weeks Empower Hour View HERE.
Please consider becoming a monthly donor and help Action4Canada continue to bring solutions and hope to the nation!
God bless you and God bless Canada!
The Team @
Action4Canada