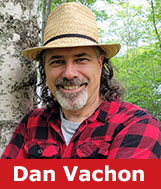 Dan Vachon is Action4Canada's very own Chapter Leader in Sydney, Nova Scotia as well as the Chapter Team Leader for the Maritimes.
Dan was born in Val d'Or, Quebec to a pastor, evangelist, missionary family. Dan also lived in Montreal and after he got married in 1987, he then in 1989, moved to Nova Scotia where he has raised his family of nine children. Dan pastored in both Southern Ontario and Nova Scotia for 14 yrs and he also became a paramedic. In addition to all that Dan undertook missionary work in the Caribbean and Romania, soon after the collapse of Communism.
Having discovered a love for nature and the outdoors, he purchased a 36 acre farm and began raising chickens, rabbits, dairy goats and pigs. He and his family also put in gardens and learned how to can and preserve. After leaving the ministry in 1998 to work as a paramedic full-time, he purchased a 200 acre farm and increased his livestock herd to 450 animals to include Jersey cows, turkeys, ducks, geese and pheasants. With his children the family made their own butter and cheese, preserved and canned hundreds of vegetables, and put away hundreds of pounds of root vegetables. In 2006 Dan answered the call to do medical missionary work in the jungles of northern Brazil for three years. Afterwards he pastored for another two years and finally retired from ministry in 2014, and after a work related injury as a paramedic in 2020, Dan retired as a paramedic after 29 years in 2022. Dan now devotes himself to serving with Action4Canada in the Maritimes. Dan enjoys wood working, making sawdust with his sawmill, and remains involved in ministry with his church outreach.
If you are in need of prayer please reach out to our Prayer Team @ [email protected] 
Remember: Freedom of speech, thought, belief and the right to life, liberty and security of the person are guaranteed. We do not need to beg, barter or ask for them…they are ours for the taking.
As Action4Canada continues to courageously defend Canadians rights and freedoms we ask that you would please consider courageously giving, either a one time donation or becoming a monthly donor.  Help Action4Canada continue to bring solutions and hope to the nation!
God bless you and God bless Canada!
The Team @
Action4Canada