School and School Board Defend Teacher's Obscene Manifestation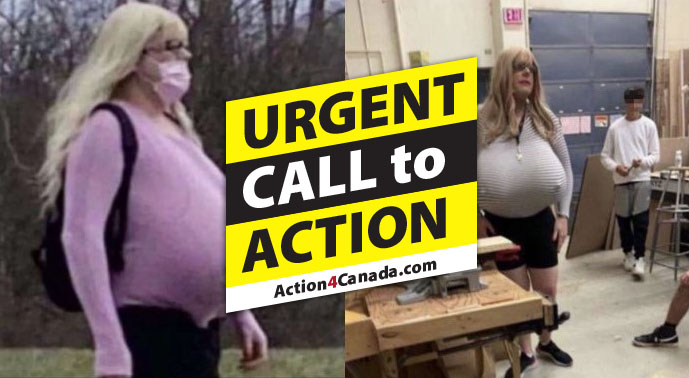 The image above, taken by a student, is of a teacher who is wearing a massive prosthetic bust to class at the Oakville Trafalgar High School in Ontario. You may think that this can't be real and is part of some kind of sick joke, but it isn't a joke and the Halton District School Board is actually "standing behind" this "accepted" transgender teacher. Sadly, this is not an isolated incident as other such obscenities are taking place at schools across Canada. Students are uncomfortable. They recognize it isn't normal but feel helpless to do anything about it. Sexual exploitation and indecency are Criminal Code offences.
This is due, in part, to a decision that was made by the World Health Organization on May 25, 2019 to remove transgenderism from the list of mental disorders. Gender identity disorders were reframed as "gender incongruence" to remove "misconceptions" about being transgender as well as empower and liberate transgender people around the world.

Justin Trudeau, and every Premier in this country, have fully embraced the World Health Organization's decision and are responsible for allowing this depravity to infiltrate our government institutions. Sexually grooming children and pedophilia are criminal code offences and we must unite and oppose this agenda.
Contact the Halton School Board (HSB) and Oakville Trafalgar High School and let them know how you feel about this situation.
HSB Email: [email protected] 
Phone:  905-335-3663
Oakville Trafalgar High School
Phone: 905-845-2875
Address: 1460 Devon Road, Oakville
Remember: Freedom of speech, thought, belief and the right to life, liberty and security of the person are guaranteed. We do not need to beg, barter or ask for them…these are God-given inalienable rights and ours for the taking..
As Action4Canada continues to courageously defend Canadians rights and freedoms we ask that you would please consider courageously giving, either a one time donation or becoming a monthly donor.  Help Action4Canada continue to bring solutions and hope to the nation!
God bless you and God bless Canada!
The Team @
Action4Canada