Christian Family Under Threat of Deportation…from Canada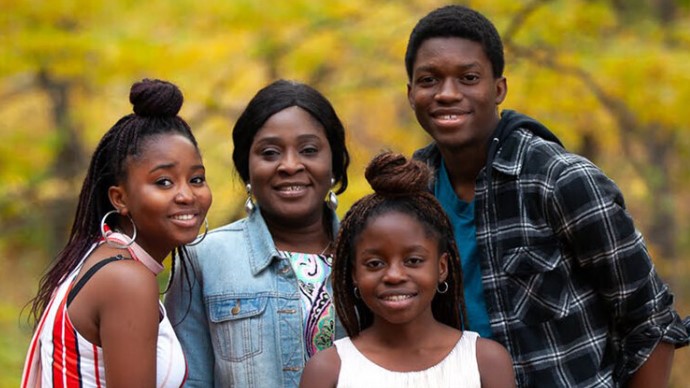 Call to Action!
Majed El Shafie, the founder of One Free World International, and his team have been advocating to Free the Ogunkoya family for many years.
Morufat Ogunkoya, and her three children, were facing persecution, intimidation and violence in Nigeria for converting from Islam to Christianity. Morufat fled with her three children and filed for an asylum claim in Canada, fearing for their lives should they be forced to return to Nigeria. 
After years of being denied asylum by the Canadian government and previously being threatened with deportation the family was forced into hiding for two years, 'in Canada'. In November of 2021 there was a glimmer of hope as the  family was permitted to live freely again in Canada while a Pre-Removal Risk Assessment (PRRA) application and a Humanitarian application were waiting to be reviewed. Unfortunately, things have taken a turn for the worse as they were recently informed that their applications have been rejected and once again they have been denied asylum and are scheduled to be deported in June. 
One of the main reasons the Humanitarian application was rejected is because the officer involved in this case neglected to review the 1500 pages of evidence and documents provided. Majed and his team are appealing the rejection of the Humanitarian application based on that the fact that the evidence was not reviewed. They are also appealing the PRRA and going to the federal court to try and stop the deportation.
Please help us raise the additional legal funds required to appeal this case. Donate directly to One Free World HERE. Thank you!
Join LauraLynnLive on Tuesday May 17 at 1:40pmPST 4:40pm EST as she interviews Morufat. Hear the heartbreaking testimony of a mother who fled certain death in Nigeria with her three children to seek asylum in Canada, only to be repeatedly denied.
Meanwhile, the terrorist Popular Front for the Liberation of Palestine (PFLP) leader Khaled Barakat and his wife have resided freely in Canada since the end of 2019, despite laws forbidding members of terrorist entities from even entering the country. No explanation has ever been provided for this state of affairs. Something is very wrong with this picture. Join the Canadians who are currently appealing to Trudeau with their concerns over the recent activities of the PFLP in Canada, by signing this Petition.
Contact the Immigration Minister, Sean Fraser, today, be polite, but demand justice. [email protected] 
About Sean Fraser:  WEF Young Global Leader, served as the VP of a local branch of the United Nations Association in Canada and acted as a Research Fellow with the Centre for International Sustainable Development Law.
As a note, the UN is heavily Sharia (Islamic) compliant. A third of the member seats are held by Islamists. The battle for this family is more than meets the eye. 
Remember: Freedom of speech, thought, belief and the right to life, liberty and security of the person are guaranteed. We do not need to beg, barter or ask for them…they are ours for the taking.
Please consider becoming a monthly donor and help Action4Canada continue to bring solutions and hope to the nation!
God bless you and God bless Canada!
The Team @
Action4Canada