The Covid-19 injection is being described as a bio-weapon responsible for the mass genocide of millions of citizens worldwide. It is reported that the WHO, WEF and government leaders colluded together in secret meetings in Davos before unleashing their diabolical plan. The evidence is compelling and it is undeniable that the Covid jab was never just an experimental injection but rather a targeted attack against humanity in order to reduce the world's population.
In July 2023 there were two significant, groundbreaking studies released, one from Denmark and the second by Dr. McCullough and his colleagues in the USA, that prove that the COVID-19 injection caused, and is still causing, severe vaccine injury and death. Despite these horrific findings the global cabal is refusing to cease and desist their campaign of death.
17 MILLION Deaths…and Counting!
Wednesday, November 8, 2023 4:30pm PST/7:30pm EST Register in Advance.
4:30pm PST – A4C Orientation; 4:45pm PST – Tanya's update; 5pm PST/8pm EST – Empower Hour guest segment
Denis Rancourt, PhD, Co-director of Correlation Research in the Public Interest, joins Tanya Gaw to discuss the newly published scientific report entitled "Quantitative evaluation of whether the Nobel-Prize-winning Covid vaccine actually saved millions of lives" authored by Rancourt and Joseph Hickey, PhD. The Lancet, a world renowned medical journal, published a paper claiming that the jabs saved millions of lives. However, Rancourt and Hickey re-examined the mathematical model behind that paper and their findings confirm that, "There is no evidence in the hard data of all-cause mortality of a beneficial effect from the COVID-19 vaccine rollouts. No lives were saved." 
Instead, the researchers estimate the COVID-19 vaccines led to 17 million deaths worldwide, with the most deaths occurring among the elderly.  Learn more about our guest and Share the Empower HERE.
COVID-19 Vaccines Not Safe for Human Use
Dr. McCullough's Oct 20, 2023 Arizona State testimony reiterates the alarming adverse affects of the COVID-19 jab. Dr. McCullough describes how the circulating spike proteins in the body are dangerous and that every time someone takes a shot it creates more spike proteins and they keep going and going. The spike protein is directly dangerous to cells, tissues and organs in the human body. 
Dr. McCullough also reports that the vaccine affected the heart of everyone who took it, and that 65% of people who took the vaccine and had a sore arm had the greatest cardiac PET scan abnormalities. McCullough warns that the initial reaction in the arm is a clinical clue as to who may become sick as a result of taking the jab. Watch the video to learn more.
WEF Founder's Son 'Singing Like a Bird'
to Prosecutors in Crimes Against Humanity Case!
Pascal Najadi, the son of the co-founder of the World Economic Forum, is co-operating extensively with prosecutors in the crimes against humanity case against key figures of the global elite, sparking concerns in the World Economic Forum, the UN, and the WHO that their diplomatic immunity is about to be revoked and arrest warrants issued.
Leading globalists are set to be sacrificed on the altar of public outrage for their roles in the Covid plandemic, according to an International Criminal Court insider who revealed that preparations are under way for crimes against humanity Nuremberg 2.0 trials at the ICC in the Hague. We can only hope and pray that justice will prevail.
Health Canada Confirms DNA in Vaccines!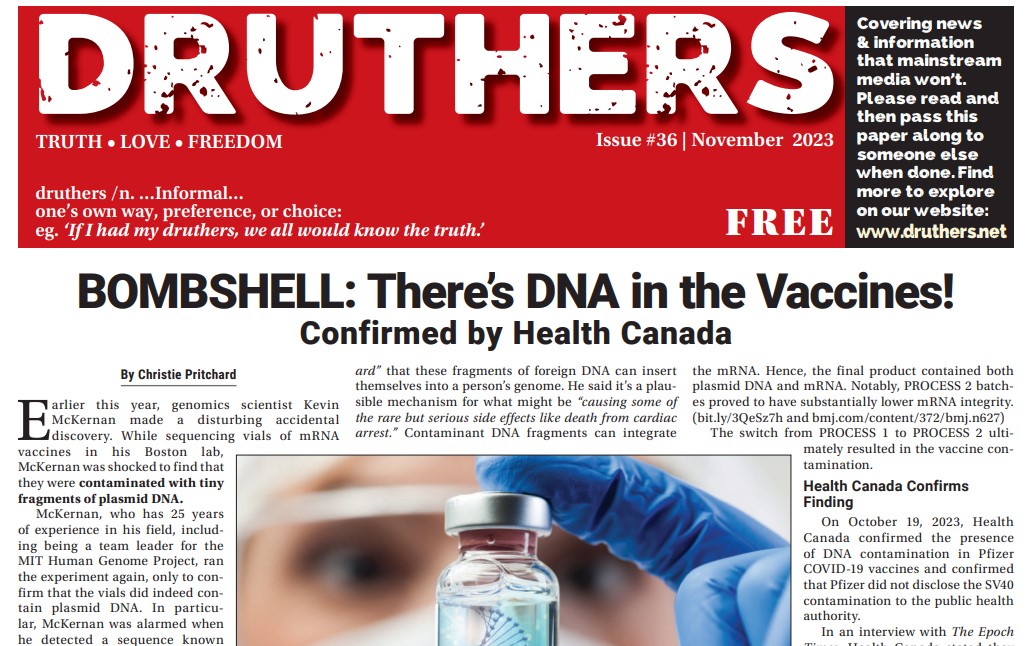 Another bombshell report confirms the presence of DNA fragments detected in Pfizer/BioNTech and Moderna jabs. On October 19, 2023 Health Canada confirmed the presence of DNA contamination in Pfizer jabs and confirmed that Pfizer did not disclose the SV40 contamination to the public. The implications of this disclosure raise significant questions regarding accountability. Will Health Canada, along with various government leaders, be held responsible for their disregard for public health? People need to go to jail!
Further Report: MRNA VACCINE CONTAMINATION ISSUES WORSEN: New data unearths extensive DNA contamination within mRNA-based COVID-19 vaccines. Now, regulators in Canada and Europe are acknowledging its presence. Meanwhile, researchers in a new preprint paper, are finding correlations with DNA contamination levels and severe adverse reactions.
Good News: 40% of Canadians Saying NO to Covid Jab & Flu Shot!
According to a recent Ipsos Poll conducted exclusively for Global news, 40 percent of the population does not plan on rolling up their sleeves for the updated shot this fall! The poll found of that group, 45 percent said they did not feel it was worth getting one. An additional 23 percent of this group expressed concerns regarding the shot's safety, while seven percent were outright opposed to the COVID-19 vaccine.
Natural Remedies for Wellness
A growing number of Canadians are not only rejecting the Covid jab and flu shots but are also deciding not to vaccinate/immunize their children, and for good reason. Big Pharma and the government may be hiding the significant findings of adverse reactions in children, but Action4Canada isn't. Review A4C's Childhood Vaccine page to learn more.
Dr. Sherri Tenpenny, an osteopathic medical doctor, has invested more than 20 years and 45,000 hours researching, documenting and exposing the harms associated with vaccines. In this interview, Dr. Tenpenny discusses the polio, tetanus and covid vaccines, vaccines given to pets and how to help your body detox.
Warning: By 2030 the World Health Organization plans to reduce by 50% the number of children missing out on childhood vaccines, achieve 90% coverage for 'essential' vaccines given in childhood and adolescents, and introduce 500 new vaccines in low and middle-income families.
Do Vaccines Make Us Healthier?
The answer is a hard NO! Vaccines do not make us healthier. Watch the video as they provide peer reviewed studies comparing the vaccinated to the unvaccinated. 
Please share this information to help educate as many people as possible. We understand that it can be difficult to do because of the "anti-vaxxer" rhetoric but be courageous and speak truth, in doing so you could help save lives. 
As Action4Canada continues to courageously defend Canadians rights and freedoms we ask that you would please consider courageously giving, either a one time donation or becoming a monthly donor.  Help Action4Canada continue to bring solutions and hope to the nation!
If you are in need of prayer please reach out to our Prayer Team @ [email protected] 
Remember: Freedom of speech, thought, belief and the right to life, liberty and security of the person are guaranteed. We do not need to beg, barter or ask for them…they are ours for the taking.
God bless you and God bless Canada!
The Team @
Action4Canada