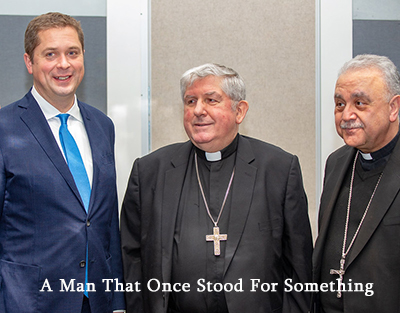 Andrew Scheer's Departure From Social Conservatism
Dear Friends,
Action4Canada is committed to providing information on Federal leaders and holding all levels of government to account.  Canada has suffered some difficult blows in the past four years under the leadership of the Liberal government which was further impacted by the alliances with the NDP and Greens on many critical issues.
NDP and Greens largely voted the party line on Liberal policies and legislation. Almost without exception. Bill C-16 (allowing men into women's private spaces), Motion M-103 (Islamophobia motion eliminating criticism of Islam), Bill C-75 (weakening our laws), Bill C-71 (gun control), Bill C-45 (cannabis legalization), open borders, climate change hysteria, carbon tax, pipelines, Paris accord, and UN/Globalism/socialism. You name it and they were all over it. Unfortunately, the leader of the conservative party, Andrew Scheer, has decidedly taken the party left on a number of critical issues as well.
Unfortunately, the election is over and due to massive censorship and a misinformation campaign on behalf of the media Canadians never had the opportunity to be properly informed.  The breaking news story exposing Andrew Scheer hiring Warren Kinsella's Daisy Group Consulting firm to launch a smear campaign against Maxime Bernier and the PPC party was a real shock and disappointment. Internal Daisy Group records obtained by the Globe  show a team of Daisy Group employees worked on a plan called "Project Cactus" which focused on portraying PPC supporters as racist.  It further reported that the Conservatives contract with Daisy Group was with the condition that it wouldn't be traced back to the Party.
Over a period of 20 minutes Andrew Scheer was interviewed by the media and asked 14 times to answer questions related to the Conservative Party hiring Kinsella's firm to do their dirty work in attacking Bernier in a "seek and destroy" smear campaign. 
Scheer's response to the media was consistent, "We don't make comments on vendors that we may or may not have engaged with".
It isn't just the level of deceit that is reprehensible but the irreparable consequences of this reckless act which has caused much pain and suffering for the many PPC candidates and supporters who were forced to endure many months of non-stop ridicule, accusations, and public displays of hate and abuse.  Mr. Scheer, with the help of Mr. Kinsella, (and the media) put the lives, reputations and well being of citizens at risk and pitted Canadians against one another.  All built on a mountain of lies.  Deliberately interfering with the democratic process.  
There were two parties, People's Party of Canada and the Christian Heritage Party, who maintained a level of uncompromising leadership and genuinely had the best interest of Canadians at the forefront of their platforms.  They understood the threats we face as a nation and the courageous steps it would take to protect us from foreign influence and corrupt governments who are working to collapse our economy and take control of our resources, borders, agriculture, land, and social and legal systems.  The PPC and CHP were committed to protecting our rich heritage, values and sovereignty as a nation while all other parties shamelessly pandered to the gods of political correctness with endless promises of handouts and giveaways. 
Since Andrew Scheer was elected leader of the party his integrity and the direction he has taken the CPC has come under consistent scrutiny.  
It began the day Andrew Scheer 'won' the leadership position. The following article from June 1, 2017  reports on the mysterious 7,466 votes for Scheer which gave him the win but as reported the pollsters say, "those numbers 'don't add up". Unfortunately, and conveniently, the ballots were destroyed by the party before this matter could be resolved.  Mr. Bernier had a recorded 49.05% of the vote and many to this day question the legitimacy of the outcome. 
The leadership election was a sign of what was to come.  It appears deceit runs deep at the top levels of the CPC and Mr. Scheer's campaign of hate against PPC candidates and members is evidence of this.  Even in the small details the CPC worked to deceive Canadians during the election by creating Facebook posts with false numbers of 'likes'…using people's names, without their permission or knowledge, to like their page in order to give the impression they had more support than they actually did.  There are images available of multiple CPC posts fraudulently using the names of PPC members and candidates on their FB page.   
MP Garnett Genuis sent an e-mail  making false claims that the Conservatives had "the strongest concrete deliverable pro-life policy proposed by any party this election". The policy supports an adoption tax credit and EI leave…wonderful as that may be it is hardly the "strongest concrete deliverable pro-life policy". The Christian Heritage Party has the strongest pro-life policy and the People's Party was the runner up committed to bringing forth legislation against abortion and finally having a vote (true democracy). As you will read in the content of this report Mr. Scheer has made it abundantly clear he will not re-open the abortion "issue" and has committed to continue funding abortion overseas.
Andrew Scheer…a few facts
–  Supports continued immigration at 350k/year.
–   Is committed to meeting the Paris Accord. **despite 500 scientists delivering a signed document to the UN stating there is no climate emergency. Something you will not hear from the MSM or globalist politicians. Read Here and View Here
–  Is committed to pursuing a seat on the UN Security Council
Andrew Scheer and Political Islam:
In August we launched an awareness campaign exposing Andrew Scheer's meeting with Islamists.  Many conservatives considered it the last straw in their support for the party but there were many more who decided to ignore it out of fear of splitting the vote. 
A further report was provided listing individuals within the Conservative party with ties to extremism. Read Here
August 2, 2019 a report reveals the Conservatives, if elected, would work to restore ties with Saudi Arabia.
"Conservatives commit to work to win some trust with Saudi Arabia by focusing on improving commercial ties and by offering more aid, development and refugee support in the Gulf region."
There are so many problems with this statement considering the human rights abuses and their treatment of women. The following testimony is a chilling perspective which the majority of Canadians are unaware of. Through programs such as the Saudi doctor visa student program, for instance, human rights abuses thrive. View Here.  Further, Saudi Arabia is one of the richest countries in the world why would we provide aid when our own veterans, homeless and elderly are going without?
Mr. Scheer does not miss an opportunity to pander to Islamists even though the cost to Canadians is high. Ramadan is an important part of Islamic Sharia law, a holy ('month' long) celebration which is infiltrating our society…wherein a growing number of schools, law enforcement (RCMP), and government facilities are being encouraged to participate. Mr. Scheer doesn't stop at good wishes but takes it a step further to say, "it is an opportunity for "us" to reflect on the important contributions that Canadians of the Muslim faith have made to Canada". 
The only ones who are deserving of a shout out for their contributions to Canada are our veterans who fought for our freedoms and the European settlers who risked everything to come here and were the ones who formed this great nation, its laws, its values and its democracy based on Judeo Christian values, not a totalitarian and oppressive culture determined to change us from within.
June 3, 2019   Andrew Scheer threw MP Michael Cooper out of the Commons Justice Committee after a confrontation with an Islamist witness. Michael Cooper had every reason to call out witness, Faisal Khan Suri, who made defamatory comments to try to link conservatism with violent extremist attacks. The committee was meeting to discuss reviving Section 13, the controversial hate speech law. Partnered with Motion M-103 this is a perfect duo in furthering the Muslim Brotherhoods plans to silence opposition to Islam, which is exactly what the Islamist witness' objectives were in attending this meeting. In removing Mr. Cooper from the committee Mr. Scheer empowered the Islamists. The committee took further steps and struck Mr. Cooper's statements from the record, forever changing our history.
September 7, 2019   Lisa Raitt agreed to meet with the NCCM.  Ms. Raitt met with the NCCM a year ago and when the Conservative party was contacted due to concerns the CPC claimed she didn't know….yet here she is again a year later.  Take a moment to review the comments made by Islamists on the FB page (below).  Ghada Melek is a coptic Christian whom the NCCM called to have removed from the CPC.  Israel is Canada's ally and moving the Canadian Embassy to Jerusalem is the right thing to do but a view which is not shared by those who pose a threat to this nation. 
Mohamed Sedki

 – "ask her why they keep candidates that are known for hate speech as Ghada Melek"

Afia Bandali

 – "I hope someone will also bring up the fact that the conservatives have already pledged that if elected they will move the Canadian Embassy to Jerusalem"
Abortion, Same-sex marriage and the LGBTQ:
Scheer has turned his back on social conservatives.
"I find the notion that one's race, religion, gender, or sexual orientation would make anyone in any way superior or inferior to anyone else absolutely repugnant. And if there's anyone who disagrees with that, there's the door. You are not welcome here."
Multiple Pro-life/Pro-family candidates have been banned and rejected by the conservative party.  Laura Lynn Tyler Thompson, Anne Gillies, Angelina Ireland, Heather Leung…just to name a few.
These are women who have been standing on guard for our children against the radical LGBTQ militant activists who have a very aggressive agenda to indoctrinate our kids into believing there are more than two genders, supporting drag Queen story hours at public libraries and trans men entering women's and children's private spaces (women's washrooms, shelters, sports and prisons). These courageous women have been putting themselves out there, taking the arrows, to protect our kids and Andrew Scheer rejected all of them.
June 26, 2019 –  Mr. Scheer has chosen a more modern woman to represent the Conservative Party. "A younger, more female face". 
"Obviously," she says, "there is a fair bit of stereotype out there that a conservative is only one type of person. It's a middle-aged white man in a suit. And I would like to prove to people that that's simply not true."
LGBTQ Rights:
September 30, 2019 Scheer says Conservatives would support legislation to protect LGBTQ Canadians.
Question…how much more protection can they get? The LGBTQ activists are succeeding in destroying societal norms, indoctrinating our children into unscientific theories, and attacking parental rights. 
March 28, 2018  Michelle Rempel in the House of Commons gave a very emotional appeal to accept Bill C-16...the Bill responsible for allowing biological men to enter women's spaces and LGBTQ activists to push their agenda into our schools and society at large.  
May 18, 2019   Michelle Rempel's alliance with Morgane Oger is concerning yet Andrew Scheer has no comment.  Oger is a trans person who has a history of attacking anyone who does not agree with the trans/lgbtq ideology and teaching kids their gender is fluid.  Oger is forming a "hate watch" group in a further attempt to shut down opposition to his radical campaign against parents and children.  
March 24, 2019   "Michelle Rempel stands with Dustin Franks in support of banning Conversion Therapy".
**Conversion therapy is being demonized by the left to eliminate the opportunity for people who are questioning their gender, especially targeting parents to prohibit them from bringing their children, for therapy. The majority of children questioning their gender have experienced childhood trauma or abuse of some kind…therapy/counselling is crucial for them to heal and find wholeness. The Liberals, NDP and Greens are actively pushing for the ban and now the Conservatives have joined forces.
An e-petition was created in the spring/2019 to oppose the Conversion therapy ban. It was approved by the House of Commons and a Conservative MP had agreed to sponsor it.  At the last minute the MP backed down saying that he was afraid of party backlash.
June 15, 2018  Andrew Scheer committed to increase number of LGBT Refugees into Canada. Once again Michelle Rempel is leading the charge.
October 15, 2019  In a debate Laura Lynn Tyler Thompson, candidate for the PPC, responded to the Liberal/NDP and conservative position on the LGBTQ.  No one deserves special privilege and everyone has the right to be treated equal under the law.  The conduct of the Liberal/NDP candidates in this debate was appalling.
Same Sex Marriage:
May 28, 2016  Michelle Rempel helped spearhead a motion striking down the party's definition of marriage as between one man and one woman. 
May 27, 2016  Michelle Rempel brags, "all of our major political parties, including our right wing political party supports marriage for all Canadians"
April 27, 2017  Andrew Scheer when asked if he would revisit the issue, "It's not something I'm looking to revisit or reopen, the party has other things it wants to talk about and connect with Canadians and deliver for the future".
Abortion...
Mr. Scheer has maintained he will not support pro-life policy.
October 3,2019 Scheer insists he would still vote against attempts to restrict reproductive rights if his party is elected to govern on Oct. 21″.
October 2, 2019 Political pro-life organization RightNow calls on Andrew Scheer to stop violating his own party policies and stop using tax-payer dollars to fund abortions overseas
October 1, 2019 Canada's conservative leader doubles down on continuing to fund abortion abroad if elected.
August 13, 2019  Lisa Raitt said Scheer's position has been clear: would work to defeat any moves to restrict abortion.  
May 17, 2019 "I've made it very, very clear. Canadians can have absolute confidence that a Conservative government after the election in October will not reopen this issue".
April 27, 2017 Scheer declared that he would not open the debate on abortion or same sex marriage.
In closing, under the Conservative Party constitution, if the party fails to form government — and if the leader has not yet formally signalled an intention to resign — then delegates can vote at the next party convention to hold a leadership race. If more than 50 per cent of the votes cast at the convention favour such an option, that would trigger a leadership race.  Andrew Scheer has already stated that he will not be resigning and has removed any strong contenders from the party such as Brad Trost and Kelly Leitch.  With Bernier gone, who is left to lead?
The CPC convention will be held in Montreal in May of 2020. 
It would appear the "big tent centrist" party was not the answer.  Conservatives need to return to their roots and stay true to their beginnings.  The departure from socially conservative issues divided the party.  Will Mr. Scheer acknowledge the error of his way and work to re-unite the party or will he continue to compromise his own values in hopes of remaining in power?
Action4Canada