Alarming Increase in All-Cause Deaths, and Medical Conditions in 2021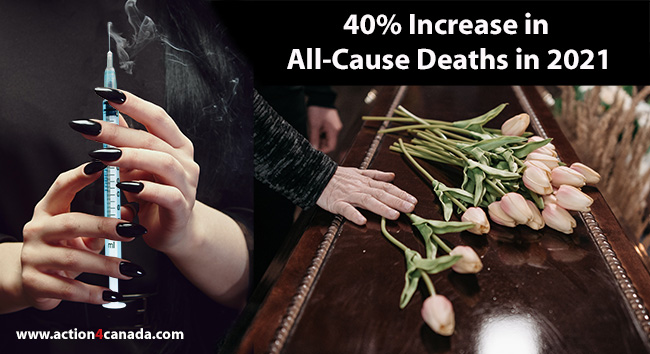 US life insurance companies have reported an overwhelming and unexplainable 40% increase in all-cause deaths among 18-49 year olds, along with an increase in medical diagnoses such as miscarriages and Bells Palsy.
In addition, three career military physicians, have uncovered a significant uptick in certain conditions including heart attacks, blood clots, miscarriages, congenital malformations, infertility and cancer. The medical data they studied was taken from the military database.
In 2021 they found there was an alarming increase (compared to the previous five years) including a:
270% increase in myocardial infarction;
300% increase in Bells Palsy;
470% increase in pulmonary embolisms (blood clots to the heart and lungs);
300% increase in cancer (from 38,000 cases per year to 120,000 cases in the first 11 months of 2021).
BC Man Awarded Vaccine Injury Compensation

December 10, 2020: Public Health Agency of Canada (PHAC) implements a pan-Canadian no-fault vaccine injury support program for all Health Canada approved vaccines, in collaboration with provinces and territories.
September 2022: CDC Admits Post-Vaccine Myocarditis Concerns That Were Labeled Covid Misinformation Are Legit
Pfizer Data Reveals: FDA Hid Pregnancy & Baby Harms

The Bigger Picture: Agenda 2030
Children, by 2 years of age:
Pneumococcal (3-4 doses)
Varicella (1+ doses)
Diphtheria (4+ doses)
Measles (1+ doses)
Mumps (1+ doses)
Rubella (1+ doses)
Meningococcal type C (1-2 doses)
Polio (3+ doses)
Tetanus (4+ doses)
Pertussis (4+ doses)
Rotavirus (2+ doses)
Hepatitis B (3+ doses)
Haemophilus influenzae type B (4+ doses)
Total 32+ doses
According to the Childhood National Immunization Coverage Survey are considered to be vaccinated for specific antigens if they had received the recommended number of doses by two, seven, fourteen, and seventeen years of age.
Recommended Vaccines for All Healthy Adults:
Influenza (every year)
Pneumococcal (1 dose at 65 years or older.)
Diphtheria (every 10 years)
Tetanus (every 10 years)
Pertussis (1 dose as an adult and during each pregnancy)
Shingles (1 or 2 doses starting at age 50)
Other vaccines you may need:
Varicella (2 doses)
Measles (1 or 2 doses)
Mumps (1 or 2 doses)
Rubella (1 or 2 doses)
Meningococcal (1 or more doses)
Polio
Hepatitis A (2 doses)
Hepatitis B (3 or 4 doses)
HPV (3 doses)