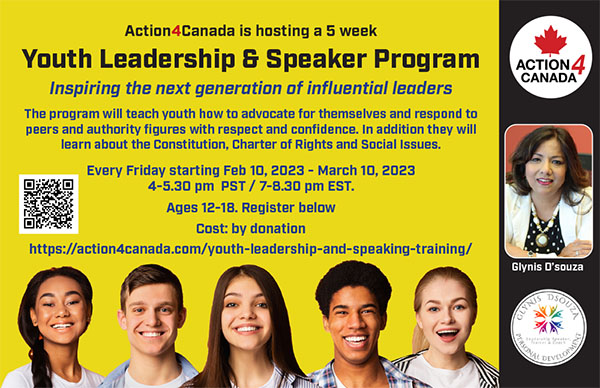 Registration for the April 2023 Action4Canada Youth Program coming soon.  
A4C is focused on educating youths, giving them a voice and teaching them how to advocate for themselves and effectively engage their peers, as well as the authorities in their lives, with respect and confidence. In addition, they also learn about the Constitution, the Charter of Rights and Freedoms and Social Issues.
The key to the future of Canada is our youth and so we must make it a top priority to invest in them. This five week training program will empower youth and help them become strong future leaders.
Action4Canada's Youth Speak Out 2022

This video features a montage of the speeches given by the youths who participated in the 2022 Youth Leadership & Speaker Program – they have something important to say!
Watch the full speeches from our 2022 Youth program. 
If you are in need of prayer please reach out to our Prayer Team @ [email protected] 
Remember: Freedom of speech, thought, belief and the right to life, liberty and security of the person are guaranteed. We do not need to beg, barter or ask for them…these are God-given inalienable rights and ours for the taking..
As Action4Canada continues to courageously defend Canadians rights and freedoms we ask that you would please consider courageously giving, either a one time donation or becoming a monthly donor.  Help Action4Canada continue to bring solutions and hope to the nation!
God bless you and God bless Canada!
The Team @
Action4Canada