We cannot sit back and believe that as they ease the restrictions, the government is genuinely thinking about bringing an end to their tyranny. 
We don't even have to read between the lines. They are openly telling us in advance exactly what their plans are. In February Tam said, "Canadian governments should be ready to resume public health measures if another serious variant of COVID-19 emerges… But it's still uncertain what the novel coronavirus that has upended life around the world nearly two years will do next. Canada must be ready to bring some public health measures back if case counts begin to rise sharply again."
The psychological war continues and now is NOT the time to rest or become complacent. We must continue to mobilize the masses, raise up leaders, and pursue legal actions against individuals and government officials.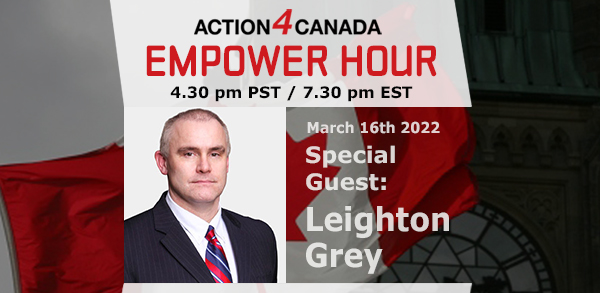 When: Wednesday, March 16, 2022 4:45pm PST/7:45pm EST Register in Advance
Joining us for this week's EMPOWER HOUR is lawyer, Leighton Grey. Leighton has acted as lead counsel in several high profile Constitutional cases, including James Coates & Grace Life Church, Timothy Stephens and his Church in Calgary, the lockdown challenge involving Dr. Deena Hinshaw, Chief Medical Officer of Health, Alberta, and various vaccine mandate cases involving CN, CP, AHS, the University of Winnipeg, the University of Alberta, Mount Royal University, the Salvation Army, BDC, and others.
In 2020, Leighton experienced a "cancel culture" attack which was orchestrated by the CBC and NDP Government, based on his conservative views. The attack was in response to Leighton posting his opinions online regarding black lives matters, Soros, the 'vaccine' and other hot topics.  Read More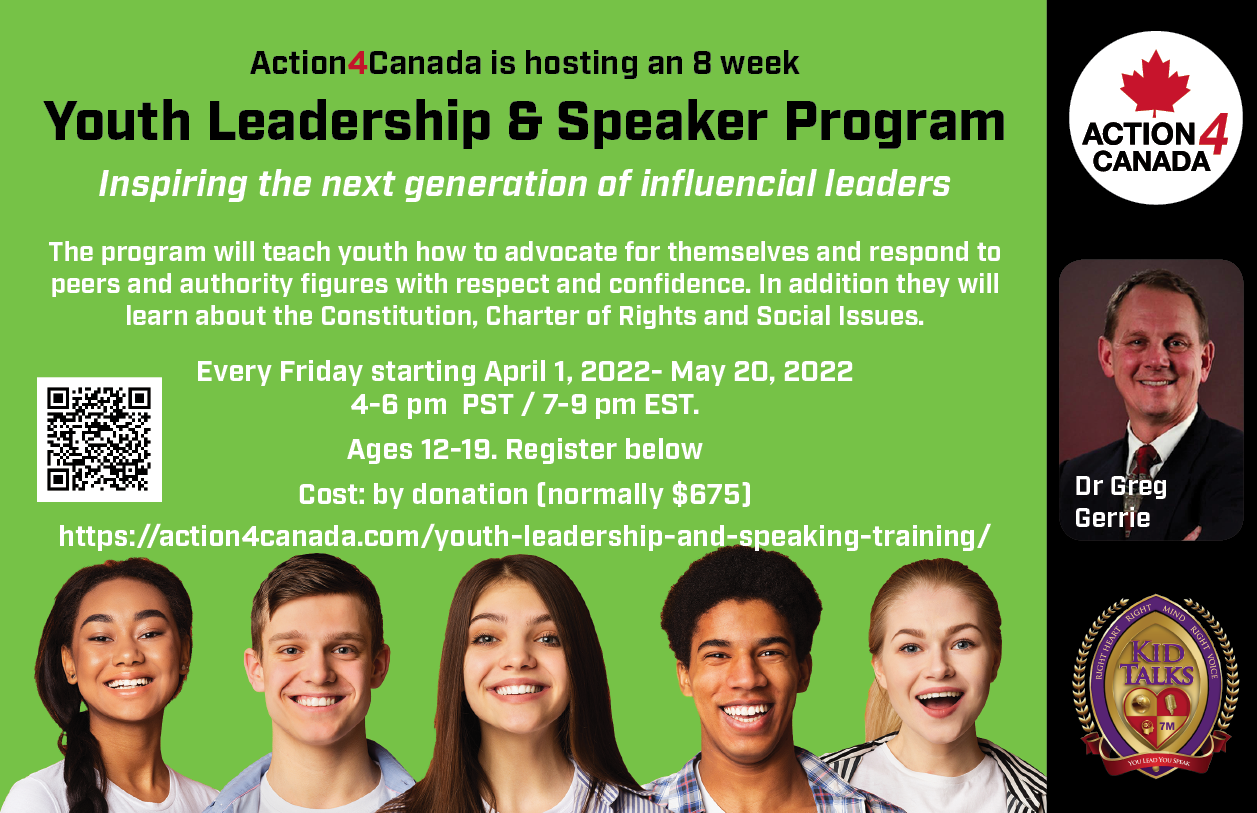 Action4Canada is honoured to have Dr. Greg Gerrie teach an 8 week on-line Youth Leadership Training Program to help equip and empower our youth. Dr. Gerrie has a degree in economics and also degrees in Education and a doctorate in Theology. Dr. Gerrie loves to teach and is passionate about bringing the truth to people. When Dr. Gerrie is not teaching on Economics, he is teaching leadership and public speaking to children ages 6 to 19. His motto is Right Heart – Right Mind – Right Voice – Right Action.
The key to the future of Canada is our youth so we must make it a top priority to invest in them. Action4Canada is hosting this course to empower youth and help them become strong future leaders. Please donate and help support this initiative and Register Here
Reminder: Medical Coercion is Illegal in Canada
We need to remember that Justin Trudeau, Chrystia Freeland and the liberal Members of Parliament have intentionally and consistently violated Canadian's rights and committed egregious crimes against citizens.
Hitting the pause button is meant to give people a false sense of security, they are above water and can breathe again, but it is only temporary. This should motivate us all to make it our mission to educate more Canadians…because we know what is coming in the fall. Knowledge is a powerful weapon and we need to wield it skilfully. Join an Action4Canada Chapter and either run for office or help us recruit and support citizens to run as candidates at all levels of government.
"Racial Equity": AKA Critical Race Theory
Jordan Petersen, Ontario "Bill 67, which purports to be nothing but an "anti-racist" bill, is in fact the most pernicious and dangerous piece of legislation that any Canadian government has attempted to put forward. This bill makes C-16 look like child's play."
During faux-Covid, radical activists have been busy working on breaking down our democracy and dividing Canadians further. Critical Race Theory is creeping into schools across Canada and we must put a stop to it!
Watch this video, and then Contact the Ontario MPPs and Doug Ford, as well as the Ontario Minister of Education and let them know that you strongly oppose this Bill. Read More and SHARE this ACTION!
The Liberals Fixation on Death
Take Action!

Pre-Covid, a handful of Canadians were fighting to preserve life whilst the majority of Canadians were either unaware or didn't care. Apathy and/or ignorance are no longer an option. We must press in a take back the ground the enemy has stolen.
Powerful voices in the "death lobby" insist that every single health care worker in every single clinic, hospital, and pharmacy must participate in the killing of vulnerable, elderly, disabled, and depressed Canadians.
Bill C-230 defends conscientious, pro-life health care professionals. An Act to amend the Criminal Code (intimidation of health care professionals), will penalize anyone who tries to compel doctors, nurses, pharmacists, or other health care workers to participate in euthanasia – whether directly or indirectly. "Medical professionals are facing increasing pressure to participate in assisted suicide, and this is causing many to question their ability to work here in Canada… The bill proposes an amendment to the Criminal Code that would protect medical professionals from intimidation or coercion to participate in medically assisted suicide." Read More and Sign the Petition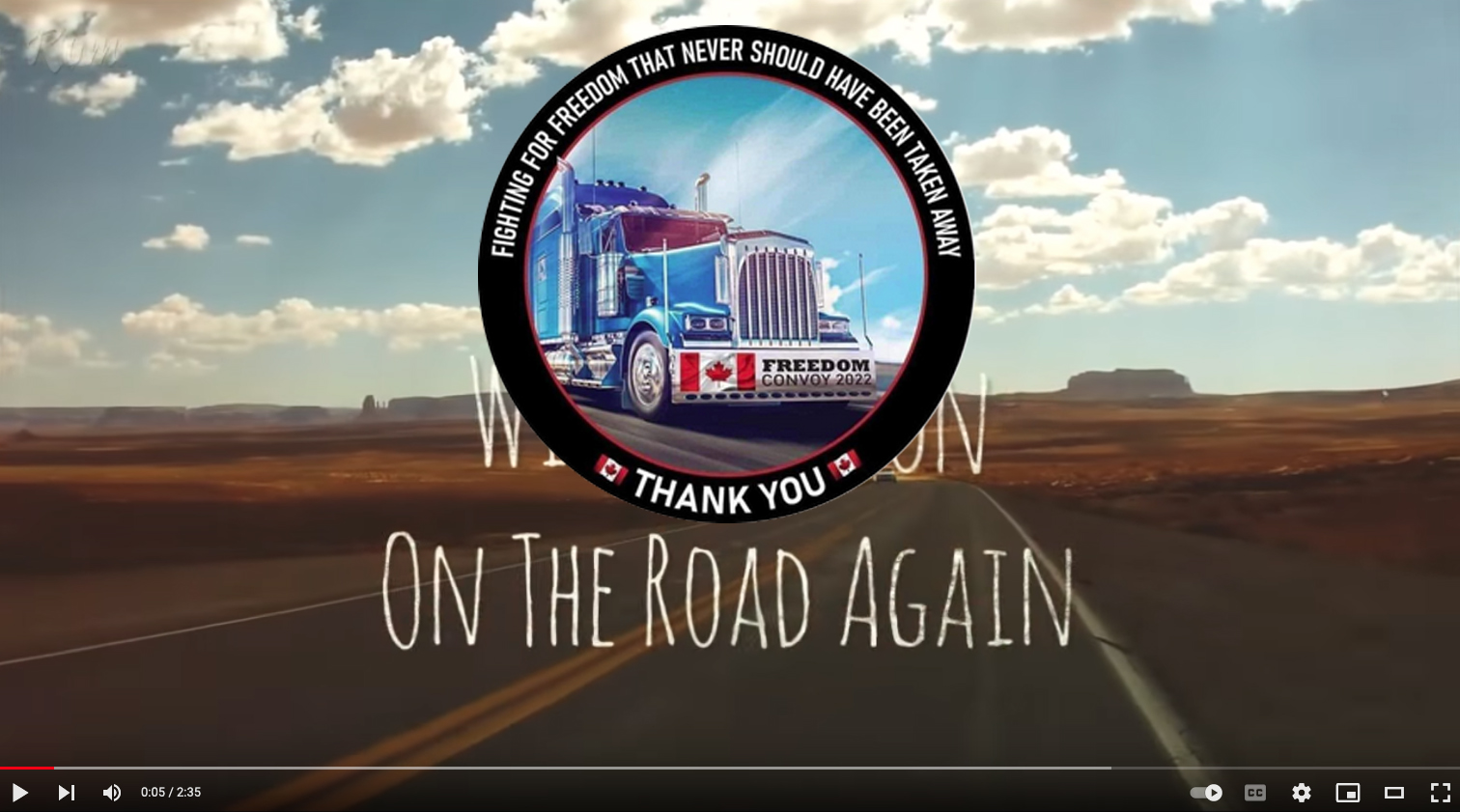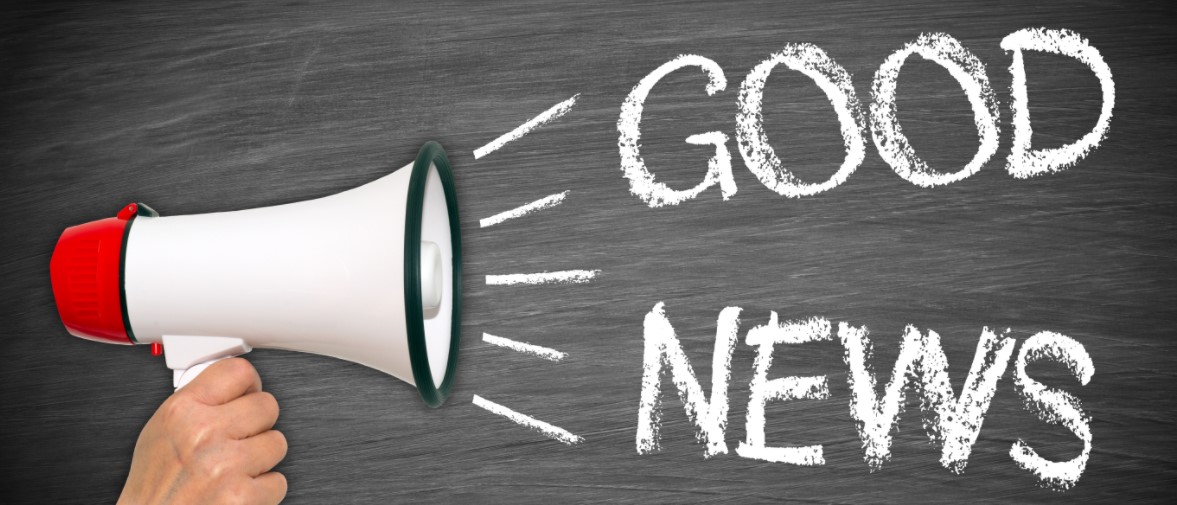 Action4Canada continues to have great success with the Notices of Liabilities and additional letters: Saving lives and saving jobs!
The BC School Board Trustee campaign to protect school staff from being mandated to vaccinate, at risk of losing their jobs, is going well . So far 30 School Boards have voted NO to the mandate. We are 50% of the way there. We are very serious about personal liability when it comes to those who are breaking the law and violating fellow citizen's guaranteed rights.
Action4Canada Chapter leaders are also experiencing wins in Ontario. For eg, the Durham School Board had voted to mask K-12 students and due to consistent campaigning, educating and pressure exposing the risk of liability, the school board rescinded their decision.
In BC, a woman who worked for the city and RCMP (for 18 years) was advised she was terminated on March 7th for being unvaxxed. Action4Canada jumped in and assisted by writing letters to the union, employer, the mayor and city council and as a result, the city reversed their decision and the employee was reinstated!
Action4Canada also had success with the City of Surrey after the City Manager, in November 2021, threatened to mandate staff be vaccinated or be put on unpaid leave by January 4, 2022. Action4Canada wrote letters advising the manager of personal liability and as a result the City sent out an Inter-Office memo on January 3rd and they removed the word 'mandatory' in regards to the vaccine, as well as the threat of putting people on unpaid leave. Copies of the letters are available as templates on the Action4Canada website.
In Maple Ridge, the Chapter leader requested the city allow ALL residents access to the civic recreation facilities or refund their taxes. The Mayor and Council voted 5-2 in favour of sending a message to the Health Minister requesting they open up the facilities to everyone.
So many more good reports coming in from across Canada. We ARE on the winning side but we MUST exert our rights and stand on our convictions. Therefore, please remember to write and keep the pressure on the Senate RE: Bill S-233 (Universal Basic Income), the Lib MPs to step down and law enforcement to side with the people…View Actions HERE
Freedom is our most precious commodity and if we are not eternally vigilant, government will take it all away.
Individual freedom demands individual responsibility.
– Lyn Nofziger
Remember: Freedom of speech, thought, belief and the right to life, liberty and security of the person are guaranteed. We do not need to beg, barter or ask for them…they are ours for the taking.
Please consider becoming a monthly donor and help Action4Canada continue to bring solutions and hope to the nation!
God bless you and God bless Canada!
The Team @
Action4Canada