Evil Shall Not Prevail Against Us!
Many Canadians agree that we are experiencing an unprecedented battle of good vs evil.
Ephesians 6:12 in the Bible says, "For we wrestle not against flesh and blood, but against principalities, against powers, against the rulers of the darkness of this world, against spiritual wickedness in high places."
The bible also teaches that God is 100% in control at all times of all things. He allows evil rulers to rise up to bring His people back to their knees. Suffering puts things in perspective and we can't expect that we can continue to turn our back on immoral and ungodly behaviour forever. It's time for a great reset, but not the kind Klaus Schwaub is dreaming about. It involves people getting back to the basics of good Godly living. Once we do, our victories will increase, "in good measure, pressed down, shaken together and running over, will be poured into your lap. For with the measure you use, it will be measured to you." Luke 6:38
Special Note: Empower Hour is on Thursday this Week only!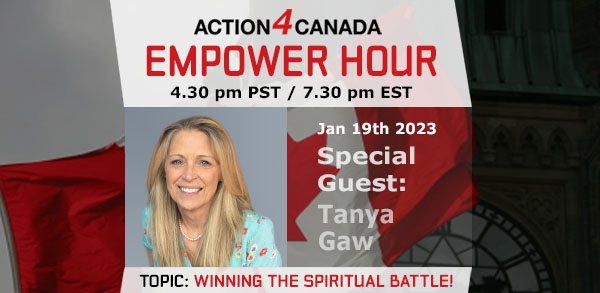 When: Thursday, January 19th, 2023 at 4:30pm PST/7:30pm EST Register in Advance. The zoom doors open at 4:30pm PST and the Empower Hour begins at 5pm PST/8pm EST. Special Notice: This week only the Empower Hour is scheduled for Thursday rather than our usual Wednesday. 
Join Tanya Gaw, founder of Action4Canada, on the next Empower Hour and be encouraged by the news that we are no longer holding the line but instead we are taking back ground from the enemy! Through a multi-strategy approach Action4Canada is putting our opponents on notice and into defense mode. By taking a confident stand and using the Constitution, Coronation Oath, the Charter of Rights and Freedoms and the Rule of Law, we have everything we need to win. But the greatest weapon in our arsenal is taking a leap of faith and a step of obedience on an individual personal level, and committing to giving authority over Canada back to God.
Faith the Size of a Mustard Seed, Moves Mountains
Action4Canada is mobilizing Canadians and educating them on how to assert their rights and stand up in peaceful, but firm, non-compliance. In order to have greater success we need you to help us build communities within communities of like-minded people who will apply our campaigns and work together as a united body. Join an Action4Canada Chapter today, or register to become a leader. Together we will take back this nation. 
Are You Tired of Being on the Defensive?
Then Be Proactive!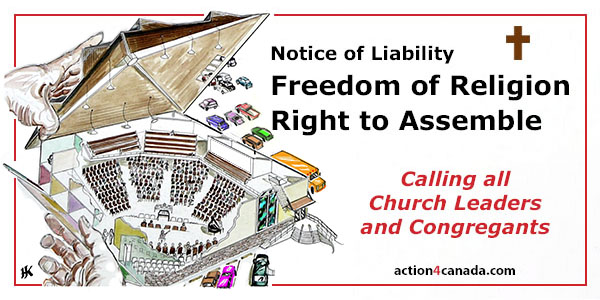 Action4Canada has created a NEW Notice of Liability as a proactive measure. It is to inform the government and its institutions that under no circumstance will Christians/concerned citizens comply with any arbitrary/unlawful/unconstitutional mandates or ideologies that violate God's law, an individual's right to bodily autonomy, or citizens' rights, including parental rights. Please join us in uniting Canadians' voices in one accord.
We are calling on church leaders, congregants, and other concerned citizens to sign this Notice of Liability and serve it to the Prime Minister of Canada, their Provincial/Territorial Premier and any other official who is interfering with their guaranteed rights. Take action! Sign and send the Notice of Liability today!
A

4

C Youth Leadership and Speaker Program Returns!
We are excited to announce that Action4Canada is hosting another Youth Leadership Program beginning in February. This five week training course will empower youth and help them become strong future leaders. It will teach them how to advocate for themselves and respond to peers and authority figures with respect and confidence. In addition they will learn about the Constitution, Charter of Rights and Social Issues. Watch the speeches from our first Youth Leadership & Speaker Program here.  Further resources can be found here.
The key to the future of Canada is our youth and so we must make it a top priority to invest in them. The program will be by donation as we want to give as many youth as possible the opportunity to attend. Please consider a Donation to our general fund to support this campaign. 
Mark it on your calendar: Fridays, Feb 10th – March 10th 2023.   Registration Form: coming soon.
If you are in need of prayer please reach out to our Prayer Team @ [email protected] 
Remember: Freedom of speech, thought, belief and the right to life, liberty and security of the person are guaranteed. We do not need to beg, barter or ask for them…these are God-given inalienable rights and ours for the taking.
As Action4Canada continues to courageously defend Canadians rights and freedoms we ask that you would please consider courageously giving, either a one time donation or becoming a monthly donor.  Help Action4Canada continue to bring solutions and hope to the nation!
God bless you and God bless Canada!
The Team @
Action4Canada