Police have sworn an oath to protect the citizens of Canada and to uphold the law. Those that are in violation must be documented/recorded and held to account. See Call to Action below!
Trudeau's desperate attempt to hold on to power by invoking the Emergencies Act changes nothing for Canadians. First of all, he has not demonstrably proved that there is an emergency and in fact had to fabricate one in order to facilitate his subversive attack as he grapples to hold on to power. Secondly, even if he succeeds in prolonging the Emergencies Act it states very clearly in the preamble that the Charter of Rights and Bill of Rights are "fundamental rights that are not to be limited or abridged even in a national emergency."
Trudeau doesn't have a leg to stand on. He knows it and this is his last hurrah. It is critical for Canadians to rise up en-masse in civil disobedience, Canada wide, to support the truckers.
Officers Holding the Line and Siding with the People!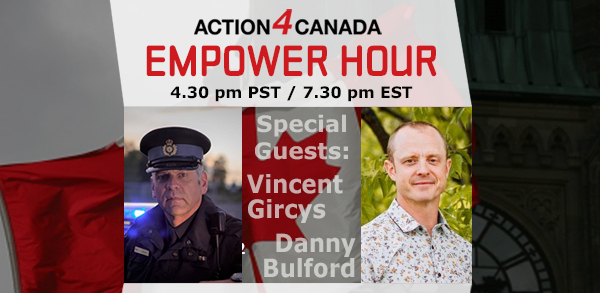 Join Tanya with special guests Daniel Bulford, former RCMP (protection detail for the PM) and Vincent Gircys, retired OPP Officer. Daniel and Vincent have been in Ottawa on the front line, supporting the peaceful assembly, holding the line and encouraging others to do the same. Daniel and Vincent have both been outspoken in holding the government to account for their draconian measures, and in support of our democracy and freedom. Register in Advance.

Daniel was recently arrested and then released without charge, like the vast majority. Trudeau, with the help of the Ottawa police, is attempting to use fear and intimidation as he struggles to maintain power.  Read More.
What to Say to Ottawa Police when Stopped at Checkpoints
Hon. Brian Peckford is the last surviving architect of the Charter and in his own words he very clearly states, "Section 1 of the Charter of Rights and Freedom's intent was to apply to war, insurrection and if the state was in peril. The Ottawa situation hardly fits into any of these categories, now does it? That's why the Charter is in the Constitution Act and not just another Federal or Provincial Act."
Is this Really Happening in Canada?!
The police spin was that the crowd was too close to the police line and so it was necessary to use the horses to create some space. The media spin said a bike was thrown at a horse. The reality was that an older, Mohawk woman who had a mobility walker, and who was having a peaceful conversation with the police, was brutally trampled by police on horseback. Prior to this happening there was plenty of space between the small crowd of protestors and the police. This can all be clearly seen in the multiple videos compiled here.
The Ottawa Police Chief also stated that the image of her on the ground was photoshopped. This video has slow motion video to disprove that spin too.
The lady reportedly survived but suffered a serious injury to her shoulder.
Police Brutally Targeting Independent Reporters
Appalling Conduct by Ottawa Police
The question being asked should be…who are they and where did THEY come from? Police take an oath in "Canada" to serve and protect "citizens" and not a corrupt government.
If your rights have been violated or you have been assaulted by the police, file a complaint and request an investigation.
https://action4canada.com/filing-a-complaint-law-enforcement/
It is Effective to File Complaints Against Police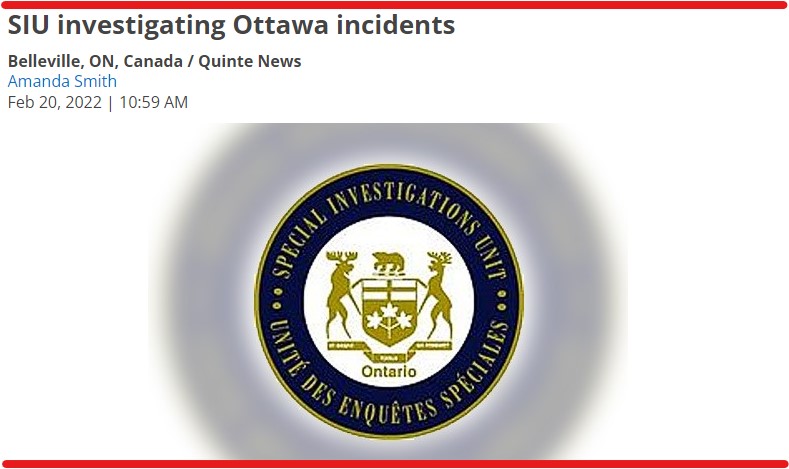 The Ontario Special Investigation Unit have commenced investigations into two police-involved incidents that occurred at the protest in Ottawa yesterday. They are seeking video evidence of the events.
Ottawa Police Chief Complicit to Treason?
There is no question, if you are not for us you are against us. If you support Trudeau's unlawful and illegal actions, you are an enemy of the State. Is the Ottawa Police Chief being compensated well to commit these offenses against his fellow Canadians?
His announcement is meant to intimidate and instill fear. This posturing is evident when you consider that nearly all of the citizens who were recently arrested at the "peaceful assembly" were released with no charge!
An Appeal to Police to Stand with the People
Chrystia Facsist Freeland: Freezing Bank Accounts?
The Young Global Leaders (great video btw) of the World Economic Forum includes players like Justin Trudeau, Macron, Merkel and Chrystia Freeland. Trudeau cannot accomplish what he is doing without the support of others who were groomed, prepared and strategically positioned for this attempt at a Communist Revolution. Freeland does not have evidence of nefarious foreign funding or terrorist activity so, like Trudeau, she is manufacturing a crisis where there isn't one. 
At the behest of Freeland the government can now freeze bank accounts because they've proclaimed they have reasonable grounds to believe such measures are necessary even though the Chief Official at the Financial Transactions and Reports Analysis Centre of Canada (FINTRAC) has denied claims of foreign extremist funding.
Banks and other financial institutions are now legally required to monitor for dissidents and freeze their assets if they suspect someone has participated in dissident activities. On top of that, they've become a part of the State's surveillance apparatus — they have to tell the RCMP or the Canadian Security Intelligence Service (CSIS), account details of potential dissidents. 
We need to appeal to law enforcement to not participate in the illegal actions of the government. 
Remember: Freedom of speech, thought, belief and the right to life, liberty and security of the person are guaranteed. We do not need to beg, barter or ask for them…they are ours for the taking.
Please consider becoming a monthly donor and help Action4Canada continue to bring solutions and hope to the nation!
God bless you and God bless Canada!
The Team @
Action4Canada