BC RCMP Top Cops Fail to Uphold Their Oath to Serve and Protect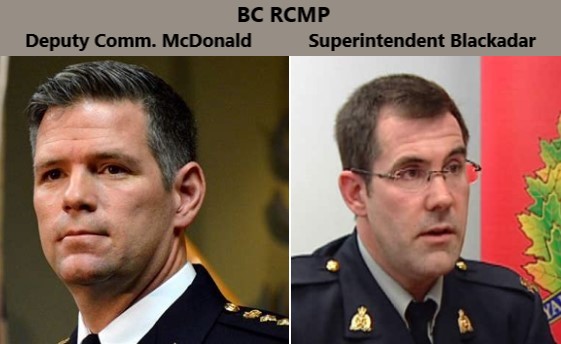 After two years of communicating with the BC RCMP Deputy Commissioner Dwayne McDonald and Superintendent Andrew Blackadar it is evident that they are being delinquent in their duties to serve and protect the citizens of BC.
The following report outlines the founder of Action4Canada, Tanya Gaw's consistent efforts to advise the BC RCMP that the provincial and federal government's response to COVID-19 were unlawful, in violation of citizen's guaranteed and protected rights and a well executed attack designed to destroy our freedom and democracy. In supporting the government's unlawful actions it would be reasonable to determine that the RCMP are coconspirators to the crimes committed.
In April of 2020, Tanya wrote a report called Government Corruption and Colluding with a Foreign Syndicate. In May 2020 Tanya sent out a Call to Action to the A4C members requesting that they email the report to every Premier in Canada, and demand that they lift the lockdowns and get their citizens back to work. And for them to further read the report and commence an investigation against the Federal government. Despite each Premiers having received the report nearly one hundred times in a matter of days, not a single one responded or acted in the best interest of the citizens they represent. A follow up action was sent in June of 2020. This was a clear indication that they were very likely in on the Global Agenda…which over time proved to be true.
Tanya provided copious amounts of compelling evidence, including an affidavit and death certificates, and offered to arrange for doctors and nurses to give first hand testimonies. Yet, she was repeatedly told they could not present it to the Crown because BC had a higher charge approval threshold to meet than other provinces, and they felt it would not be accepted. However, they wouldn't even put lead investigators on it to commence an investigation to get the evidence they felt would qualify it.
There is no doubt that when justice is served, Deputy Commissioner Dwayne McDonald and Superintendent Andrew Blackadar will have much to answer for. 
Call to Action: Contact the Commissioner and Superintendent and request they do their job and commence an investigation and indict Premier John Horgan and Provincial Health Officer Bonnie Henry for being criminally negligent causing harm, including death.
Timeline of Events:
Premiers: Campaigns 2020
May 2020 – Letter to Premiers – Lift the Emergency Orders and Restart the Economy
June 2020 – Follow up Call to Action to the Premiers
RCMP Correspondence 2020 to Present
On July 28, 2020 Tanya met with BC RCMP Asst. Commissioner McDonald at Headquarters and provided the following reports…
July 29, 2020 – Follow up email to meeting on the 28th providing the above docs as attachments
On January 18, 2021 Deputy Comm. McDonald's Assistant advised Tanya that the Commissioner recommended it would be more appropriate for Tanya to deal with the Province rather than him (passing the buck).
There were additional emails and phone calls in Jan and Feb of 2021
March and April of 2021 –  Email appeal to Commissioner McDonald
May of 2021 – Additional email correspondence sent to Comm. McDonald
IMPORTANT EVIDENCE released in June 2022: FOI RE: Bonnie Henry emails Jan. 2021 – June 2021 – these emails prove that Henry (BC PHO) 100% knew the COVID-19 Injections were causing harm, including death. 
July 2021 – Additional Correspondence
August 2021 – Personally delivered the Statement of Claim (2 copies) to Superintendent Blackadar
August of 2021 – 25 page affidavit and seven death certificates personally delivered to Superintendent Blackadar
Sept and Oct of 2021 – Tanya had more meetings and phone calls with Superintendent Blackadar
November 2021 – Action4Canada advised its members of the interactions with BC RCMP- Investigation Deferred. Canadians have lost faith in Law Enforcement
February 2022 – Phone conversation with Superintendent Blackadar
June 6 – 16, 2022 – Emails to Comm. McDonald and Supt. Blackadar
Pre-Covid communication with Asst. Commissioner McDonald
Meeting Tuesday, Aug, 20, 2019 – Asst. Commissioner McDonald
Follow up email sent Aug. 26, 2019 – among other matters of importance, Tanya provided Asst. Commissioner McDonald the RCMP case number (RCMP File #18-004212) filed by Tom Quiggin revealing the compelling evidence of Justin Trudeau reportedly funding terrorism. It was confirmed by Commissioner Lucki's office that she received the file and yet no action has been taken since it was filed in October of 2018.
In addition, a petition was created by Action4Canada calling for Commissioner Lucki to either investigate and indict Justin Trudeau and five of his cabinet members, or step down.
To Be Continued…
Remember: Freedom of speech, thought, belief and the right to life, liberty and security of the person are guaranteed. We do not need to beg, barter or ask for them…they are ours for the taking.
Please consider becoming a monthly donor and help Action4Canada continue to bring solutions and hope to the nation!
God bless you and God bless Canada!
The Team @
Action4Canada