How to Assert Your Mobility Rights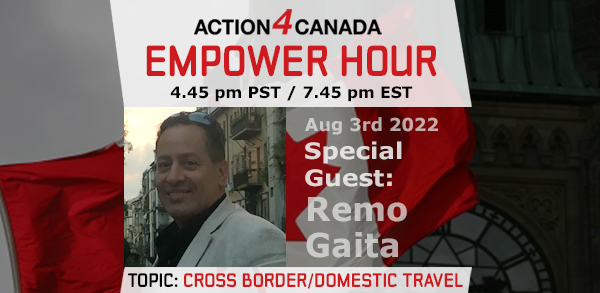 ,When: Wednesday, August 3, 2022 4:45pm PST/7:45pm EST Register in Advance. The zoom doors open at 4:45pm PST and the Empower Hour begins at 5:00 pm PST/8pm EST.
Remo Gaita joins Tanya to discuss travel: cross border; International; and domestic; as well as Action4Canada's newest Notice of Liability related to mobility rights. Expect a very informative and helpful session, practical tips, and what to expect when returning to Canada.
Remo describes himself as just a regular Canadian but one that has taken the time to become very well informed, well researched and well educated on his God-given inalienable rights. When dealing with Border Services Officers, the RCMP or health officials he is not afraid of anyone because he knows he hasn't committed a crime.
This will be a great show that you won't want to miss so be sure to Register in Advance and share this invite with others. 
Visit Action4Canada's main page for more on this topic: How to Assert Your Mobility Rights
If you are in need of prayer please reach out to our Prayer Team @ [email protected] 
Remember: Freedom of speech, thought, belief and the right to life, liberty and security of the person are guaranteed. We do not need to beg, barter or ask for them…they are ours for the taking.
As Action4Canada continues to courageously defend Canadians rights and freedoms we ask that you would please consider courageously giving, either a one time donation or becoming a monthly donor.  Help Action4Canada continue to bring solutions and hope to the nation!
God bless you and God bless Canada!
The Team @
Action4Canada