Never Give Up! Never Surrender!
Be encouraged, we are on the winning side! The Bible says:
"Be still before the Lord and wait patiently for him; do not fret when people succeed in their ways, when they carry out their wicked schemes." Psalm 37:7
"He will bring upon them their own iniquity and destroy them for their wickedness. The LORD our God will destroy them." Psalm 94:23
Reminder: Homeschooling Empower Hour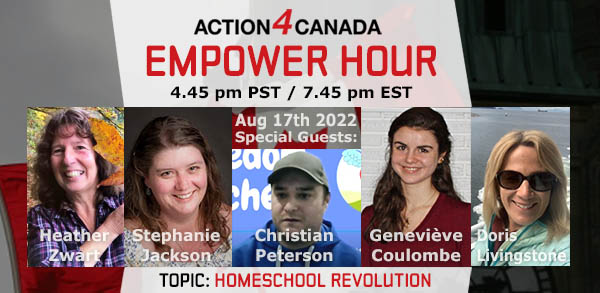 When: Wednesday, August 17, 2022 4:45pm PST/7:45pm EST Register in Advance. The zoom doors open at 4:45pm PST and the Empower Hour begins at 5:00 pm PST/8pm EST.
If you are considering homeschooling and haven't yet committed because you just don't know where to start, then you will want to join Tanya on the next Empower Hour. A panel of homeschooling experts will provide presentations and then be available for a time of Q&A. We look forward to seeing you on Wednesday. Be sure to share this information with others and encourage them to also register for this meeting.
On last week's Empower Hour Tanya had a compelling conversation with Alex Newman, founder of Liberty Sentinel, on why parents should pull their children out of the public school system, immediately! As Alex rightly pointed out, the building is on fire, why are we sending our children into a burning building? Read more about last weeks action HERE.
Remember: Freedom of speech, thought, belief and the right to life, liberty and security of the person are guaranteed. We do not need to beg, barter or ask for them…they are ours for the taking.
As Action4Canada continues to courageously defend Canadians rights and freedoms we ask that you would please consider courageously giving, either a one time donation or becoming a monthly donor.  Help Action4Canada continue to bring solutions and hope to the nation!
God bless you and God bless Canada!
The Team @
Action4Canada