British Columbia – Filing a Human Rights Complaint
Instructions, Resources and Help lines
BC College of Physicians
If you have been denied service due to not wearing a mask, business owners could be held liable for up to $75,000 in BC if you file a human rights complaint.
A business is not "private."  When a business owner obtains a business license they are open to the "public" and they are not permitted to discriminate against anyone who is exempt from wearing a mask.
As per the office of the Human Rights Commissioner: (See poster below)
"If a person claims a mask exemption, take them at their word. Proof should not be required."
"Business owners cannot be fined for allowing people without masks to enter their place of business."
Federal Privacy Act: Nobody has the right to request to see an exemption. It is a violation of your privacy rights under the Privacy Act. This is your personal medical information between you and your physician.
Pursuant to s. 1 of the Privacy Act of B.C., RSBC 1996 CHAPTER 373, it is unlawful to violate the privacy of another person. Private health issues are strictly between an individual and their physician. There is no legal or any other obligation at law requiring anyone to divulge the nature of their medical conditions with anyone.
What is personal information under the Privacy Act?  Click Here Privacy Act
"The Privacy Act offers protections for personal information, which it defines as any recorded information "about an identifiable individual."
According to the BC Provincial Order M012 you are exempt for the following reasons
Exemption from use of face covering
4 Section 3 does not apply as follows:
(a) to a person who is less than 12 years ofage;
(b) to a person who is unable to wear a face covering because of
(i) a psychological, behavioural or health condition, or
(ii) a physical, cognitive or mental impairment;
(c) to a person who is unable to put on or remove a face covering without the assistance of another person;
(d) if the face covering is removed temporarily for the purposes of identifying the person wearing it;
(e) while inside a courtroom;
(f) while consuming food or beverage at a location designated for those purposes by the operator of the indoor public space;
(g) while participating in a sport or fitness activity at a sport or fitness facility;
(h) while receiving a personal service, or a service at a health professional 's office, if removing the face covering is necessary in order to receive the service;
(i) while inside a vehicle on a ferry;
(j) while communicating with a person who has a hearing impairment.
Bonnie Henry is very clear that people who are exempt MUST be accomodated and they must be taken at their word.
This policy guidance from BC's Human Rights Commissioner Kasari Govender details how mask-wearing requirements must accommodate people with disabilities or medical conditions that prevent them from using of non-medical masks. The BCOHRC provided a poster to clarify/explain mask exemptions under the current Public Orders and encourages businesses to display it. 
COVID-19 measures must comply with our Constitution, including our Charter, they do not nullify nor supersede them, nor is there any express mention in any such law, statute, regulation, order or Guidance to so do.
Who Can Help?
Free human rights legal clinic:
If you live outside of Victoria and need free legal assistance regarding human rights or help filling out your complaint form contact: The BC Human Rights Clinic 604-622-1100.
Web: https://bchrc.net/ General Inquires: [email protected]
Free general legal advice:
Access/Pro Bono Society of BC (APB):
APB's Lawyer Referral Service helps British Columbians of any income to find a suitable lawyer to
serve their legal needs. Any member of the public may call the Lawyer Referral Service to obtain
the contact information of a lawyer who will offer a free half-hour legal consultation.
604-687-3221 or 1-800-663-1919
http://probononet.bc.ca/ email: [email protected]
Sources of general rights information:
Vancouver Island Human Rights Coalition: (250) 382-3012 Fax: (250) 380-7311.
Hours: 10am – 2pm Monday to Thursday
https://vihrc.com Email: [email protected]
The BC Public Interest Advocacy Centre – inquire whether they can assist you:
604-687-3063 http://bcpiac.com Email: [email protected]
"At the BCOHRC, our core work is to dismantle or restructure laws, policies and practices that create and sustain discrimination as a regular part of daily life for many. Our work is accomplished through providing public education, undertaking research and policy development and conducting public investigations into issues of systemic discrimination. Our aim is to uphold the dignity of people in British Columbia by proactively addressing the root causes of discrimination and inequality.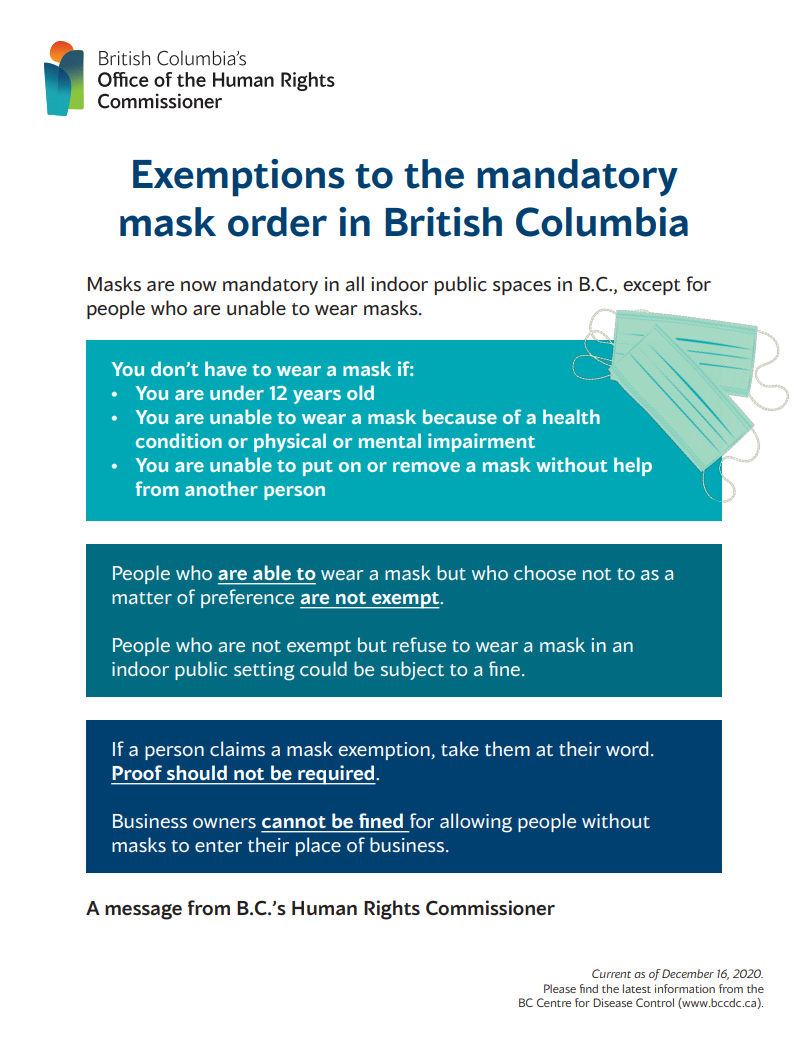 Disclaimer:  This information is not intended to be used as legal or health advice. We encourage you to do your own research.
ALL RIGHTS RESERVED ACTION4CANADA INC.