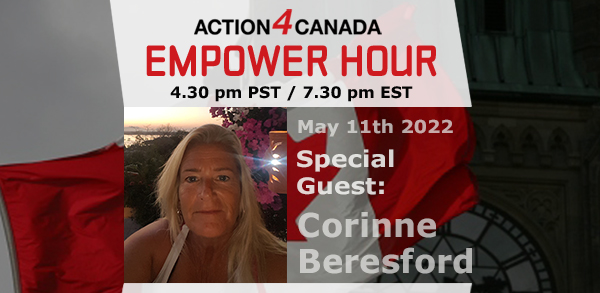 When: Wednesday, May 11th, 2022 4:45pm PST/7:45pm EST Register in Advance
Corinne Beresford-Leeco, A4C Alberta Chapter Leader, is our special guest on the upcoming Empower Hour. Corinne will provide a comprehensive PowerPoint presentation to discuss what our government has in store for all of us with the WEF/UN Agenda 2030 and their politically correct Sustainable Development Goals. Goals that have nothing to do with our Sustainability.
More About Our Guest:
Corinne Beresford-Leeco lives in Bonnyville/Lakeland, Alberta. Corinne is an occupational health & safety consultant, a mother, wife, grandmother, employer, entrepreneur, mentor and friend.
Corinne was a prior guest on the A4C Tuesday webinar and gave an excellent presentation on Occupational Health and Safety Legislation (OHS) in relation to Workplace Violence and Harassment in Canada. Corinne created the I Care Card as an additional resource for parents and employees to report potential hazards or events of objectionable or unwelcome conduct, comments, threats, bullying, physical and psychological harm.
Having worked in the Oil & Gas Industry for the past 25 years and a resident of the Cold Lake area for the last 37 years, Corinne is very committed to her home and community and therefore is devoting all of her time to take up the fight for freedom. Corinne believes this is the "hill to die on".

Due to the fraudulent Covid-19 emergency Corinne was forced to step away from working in the field of OHS and had to take her business online. As a safety person with the reputation of being the most knowledgeable in hazard assessment and control in the industry, her skills were no longer required since politicians now demanded we follow "their science" and ignored the requirement of a risk assessment and basic ERP protocols. This move reduced Corinne's pre covid business by 85% and employed manpower by 100%. Corinne was unwilling to force her employees to reduce oxygen with masks, stick foreign objects with a carcinogenetic up their nose to work or inject themselves with an experimental gene therapy to keep a contract.
Corinne loves her country, family and community and wants to see it returned to its glorious roots in the Supremacy of God and the Rule of Law. Where individual rights and freedoms flourish under Peace, Order, and Good Government. Corinne is on a mission to educate others on true safety for self, not politically correct safety.  Helping others understand not only fundamental rights, but occupational rights for a workplace free of hazards, free of bias, bullying and harassment. Promoting the right to know and ask questions, especially around what our government has in store  for all of us with the UN Agenda 2030.
Remember: Freedom of speech, thought, belief and the right to life, liberty and security of the person are guaranteed. We do not need to beg, barter or ask for them…they are ours for the taking.
Please consider becoming a monthly donor and help Action4Canada continue to bring solutions and hope to the nation!
God bless you and God bless Canada!
The Team @
Action4Canada