This Weeks Empower Hour: A Time of Q&A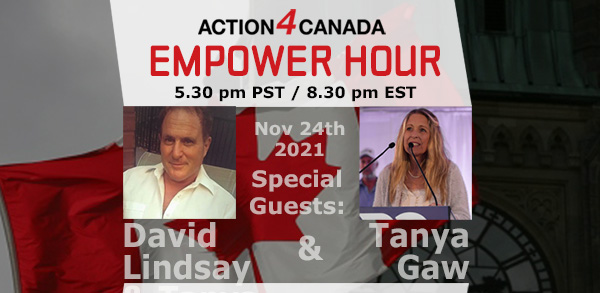 When: November 24th, 2021. Sign on starts at 05:30pm PST/8:30pm EST Register in Advance. 
The meeting starts at 5:45pm PST/8.45pm EST with an Intro Presentation to Action4Canada. At 6pm PST/9pm EST the Empower Hour begins. Closed captioning is available for the hearing impaired.
Action4Canada's founder, Tanya Gaw, along with our regular guest, David Lindsay, will have an evening of Q&A in an effort to assist citizens in asserting their guaranteed rights and freedoms. 
As a reminder Action4Canada is hosting a workshop with David on Sunday, November 28, where David will be showing the entire procedure on how anyone can lay criminal charges. You won't want to miss this workshop. Register Today! 
Remember: Freedom of speech, thought, belief and the right to life, liberty and security of the person are guaranteed. We do not need to beg, barter or ask for them…they are ours for the taking. 
Register in Advance. After registering, you will receive a confirmation email.
To listen to last weeks Empower Hour View HERE.
Please consider becoming a monthly donor and help Action4Canada continue to bring solutions and hope to the nation!
God bless you and God bless Canada!
The Team @
Action4Canada
Disclaimer:  This information is not intended to be used as legal or health advice. We encourage you to do your own research.