Train up a child in the way he should go;
even when he is old he will not depart from it.
Proverbs 22:6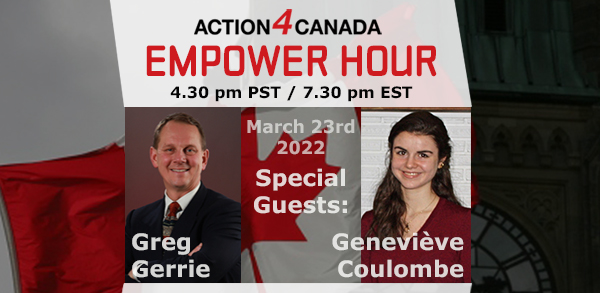 When: Wednesday, March 23, 2022 4:45pm PST/7:45pm EST Register in Advance
Special guests: Action4Canada Freedom Youth Movement leaders, Dr. Greg Gerrie and Genevieve Coulombe.
Geneviève Coulombe, a 14 year old homeschooler and a passionate freedom-fighter from Osoyoos, has joined the Action4Canada team. Geneviève has become a youth activist, using her voice to proclaim truth whilst being an example for others to do the same.
Dr. Gerrie: Author – Teacher – Pastor – Freedom Fighter. Dr. Greg will be joining us on the Empower Hour to talk about EMPOWERING youth through leadership and speaker training. Young people attending the program will also learn about the Constitution, The Charter of Rights and social issues. Learn More and Register HERE
Investing in Our Youth Through Training!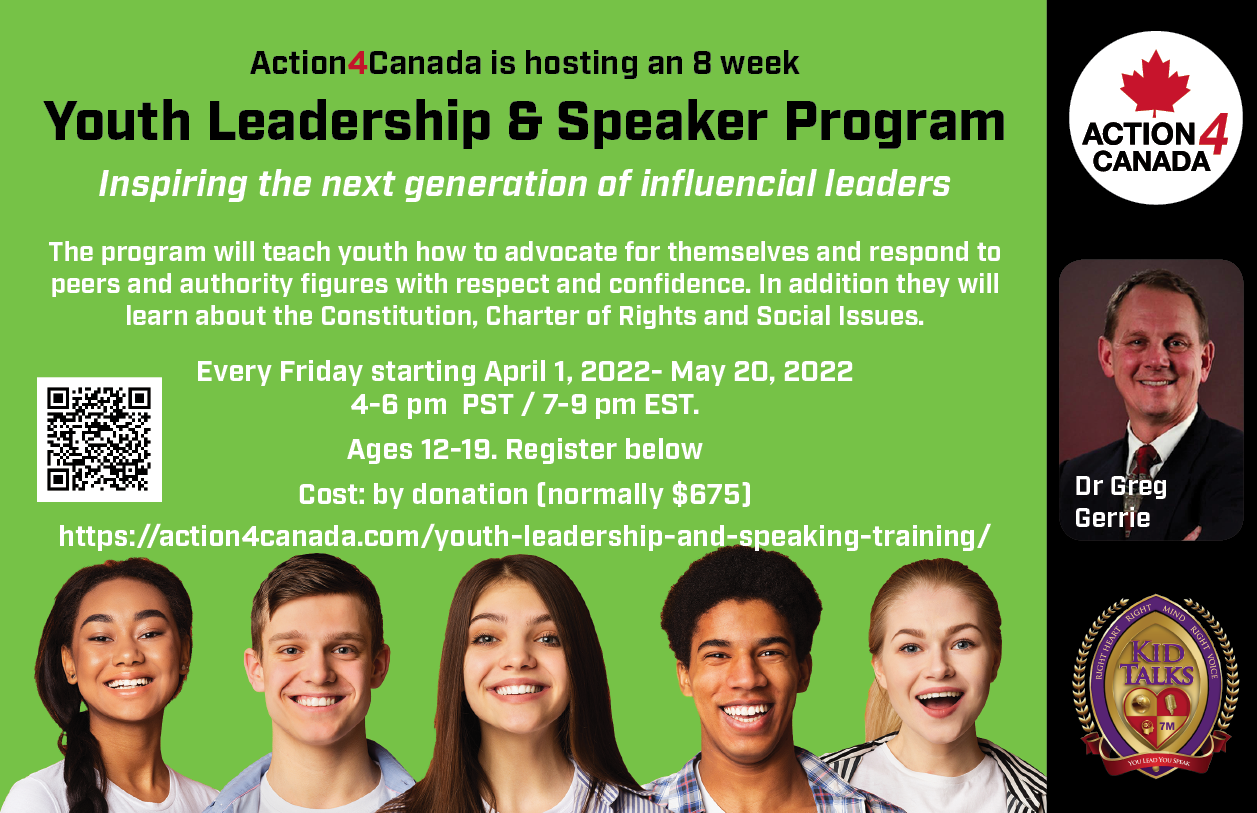 REMINDER: Action4Canada is excited to have Dr. Greg Gerrie teach an 8 week on-line Youth Leadership Training Program to help equip and empower our youth. Dr. Gerrie has a degree in Economics and also degrees in Education and a doctorate in Theology. Dr. Gerrie loves to teach and is passionate about bringing the truth to people. When Dr. Gerrie is not teaching on Economics, he is teaching leadership and public speaking to children ages 6 to 19. His motto is Right Heart – Right Mind – Right Voice – Right Action.
The key to the future of Canada is our youth so we must make it a top priority to invest in them. Action4Canada is hosting this course to empower youth and help them become strong future leaders. Please donate and help support this initiative and Register Here
They're Teaching our Kids What?
This video-essay explores the intellectual history of Critical Race Theory (CRT) and how it's devouring public institutions, and what you can do to fight back.
Marxism is at the core and these are some of the catch phrases using identity politics and soft language to advance their agenda: Equity – Social Justice – Diversity and Inclusion
Their aim is to break down democracy and capitalism by shaming the masses into believing they are bad people if they are not fully 'accepting' and 'tolerant' of their global plan to divide and destroy the free world.
But tolerance must have limits and in order to maintain our sovereignty which is founded on Judeo-Christian principles, we need to boldly expose the lies and call it what it is…a Neo-Marxist Agenda. Critical race theory promotes prejudice against whites, Anglophones, claiming white supremacy and superiority. So the anglophones who fought and died for individual equality, against racism and the abolition of slavery (eg. William Wilberforce) are being demonized and racial equity is being celebrated as it seeks to divide the world into competing racial groups and ensure race-based equality of outcomes, while endorsing active racial discrimination to get there. The actual plan in doing this is to suspend property rights and seize land and wealth from the rich and re-distribute it.
Students – straight, white, single, Christian males are being told in the public school systems that they were part of the oppressor class and must atone for their white supremacy. It also perpetuates a state of ongoing victimhood for black people who they wrongfully portray as a race unable to thrive.
How do we stop this? At the grassroots level. Join an Action4Canada Chapter and help support and recruit leaders to run for office at all levels of government. We must remove and replace. Learn More.
You Can be a Boy, Girl, Neither or Anything in Between
The agenda to twist the minds of our youth, break down the natural family and remove parental rights has been in the works for decades. The education system has become a political war zone and the casualties of this war are our children.
As result of the UN Comprehensive Sexuality Education Agenda being implemented into our schools, children are being indoctrinated en masse and the result is the rapid onset of gender dysphoria. In less than a decade there has been a 1,460% increase in boys and a staggering 5,337% (2019 report) increase in girls who no longer identify as their natural sex. These numbers are from 2019 and will be much higher in 2022.
As a result of the recent vote on federal Bill C-4, supported by all parties (including the Conservatives), if a child comes home from school claiming to be the opposite sex, a parent MUST support their child's dysphoria by bringing them to a gender dysphoria clinic or the parent is at risk of being sentenced to five years in prison.
Children are intentionally being taught an unscientific, sexually deviant agenda backed and supported by the United Nations and Globalist Elites. Pedophilia is rampantly entering our society and school systems as they groom children and expose them to adult sexual proclivities and explicit material. All under the guise of Equity – Social Justice – Diversity and Inclusion
Review the following report launched in 2018 to learn more. The United Nations LGBTQ Agenda to Indoctrinate Children World Wide.
Petition: Stop Woke Activism

Read more about Bill 67 in Ontario and Sign the Petition
Stop Bill 67, Racial Equity In the Education System Act, 2021, and stop teaching intersectionality theories, including critical race theory, in our publicly funded schools which contradicts with the principle of equality before the law and with the individual rights of Ontarians pursuant to a liberal democratic society; and
Stop teaching gender identity theory to students who are minors in our publicly funded schools; and
Commit to a results-based education curriculum that focuses on equal opportunity, meritocracy and educational excellence.
Your Money & Central Banks
Dr Greg Gerrie was our special guest on Tuesday, March 15th, for the Workers Unite, Parents and Business Owners weekly meeting. Dr. Greg Gerrie will be our guest on an upcoming Empower Hour to continue to help educate us on the Central Banking System, Fiat Currency, investing in gold, silver and the right crypto currency. Please watch the video for a preview of what is to come.
To join the weekly Workers Unite, Parents and Business Owners Zoom meetings Register in Advance Here.
Canadians have been imprisoned for over two years without knowing that they had a choice not to be. So let's break the chains of political oppression and walk this out in freedom together. 
What is going on in the world is an unprecedented battle between good and evil. Because of it more and more Canadians are acknowledging God's existence and finding comfort and peace in Him. Be encouraged, He is our deliverer. 
Action4Canada will continue to encourage you that God is fully in control but that He does allow evil to rise up when a nation turns its back on Him. This is why the bible calls for repentance and to get right with God and it comes with a promise, that He will heal their land.
If my people, which are called by my name, shall humble themselves, and pray, and seek my face, and turn from their wicked ways; then will I hear from heaven, and will forgive their sin, and will heal their land. 2 Chronicles 7:14
So let's unite and get right with God and start cleaning up the mess. Replacing elected officials with God-fearing, moral individuals who believe in the sanctity of life from conception to natural death, support the natural family as the cornerstone of a thriving society, and will defend our sovereignty as a nation built on Judeo-Christian biblical principles: the key to our democracy and freedoms. 
Remember: Freedom of speech, thought, belief and the right to life, liberty and security of the person are guaranteed. We do not need to beg, barter or ask for them…they are ours for the taking.
Please consider becoming a monthly donor and help Action4Canada continue to bring solutions and hope to the nation!
God bless you and God bless Canada!
The Team @
Action4Canada