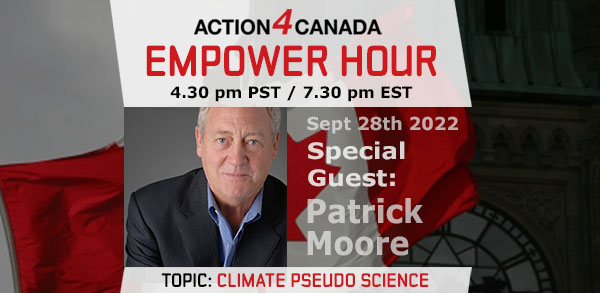 When: Wednesday, September 28, 2022 4:30pm PST/7:30pm EST Register in Advance. The zoom doors open at 4:30pm PST and the Empower Hour begins at 5pm PST/8pm EST.
This week, our special guest is former Greenpeace Co-Founder Dr Patrick Moore. Dr Moore has been a leader in the international environmental field for over 40 years. He was the Co-Founder of Greenpeace, 1971, and served for nine years as President of Greenpeace Canada and seven years as a Director of Greenpeace International. He is a Founding Director of the CO2 Coalition (2015) and a senior fellow at The Heartland Institute. As the leader of many campaigns, Dr. Moore was a driving force in shaping policy and direction for 15 years while Greenpeace became the world's largest environmental activist organization.
Moore gained much notoriety and attention when he boldly proclaimed that climate change was based on false narratives and that there is "no climate emergency."
Thankfully, like Global Warming, the Climate Change fraud narrative is falling apart, and the world is waking up. Pseudo science, scare-mongering and distorted charts and facts can't hold a candle to the truth. The globalist's end goal, in promoting the Climate Change theory, is to gain complete control over all aspects of our lives through the implementation of a social credit system. Governments around the world are destroying their economies and people's livelihoods based on non-science and psychological warfare. 
It was recently reported that Moore's reasons for leaving Greenpeace were very clear: "Greenpeace was 'hijacked' by the political left when they realized there was money and power in the environmental movement. [Left-leaning] political activists in North America and Europe changed Greenpeace from a science-based organization to a political fundraising organization."
Moore also states, "Today Greenpeace's efforts are largely counter-productive and parasitical on political agendas such as trade disputes. Their vision of a world run on wind and solar energy is a green dream that is actually a green fantasy that is rapidly turning into a green nightmare for ratepayers in the countries that have provided exorbitant subsidies for these technologies which don't even work most of the time, and then they claim nuclear energy is too expensive."
To learn more about Dr. Moore read his detailed bio: http://ecosense.me/bio/ 

Key environmental issues: http://ecosense.me/category/key-environmental-issues/ 

In the media: http://ecosense.me/category/in-the-media
Web page: http://ecosense.me
Books:
Fake Invisible Catastrophes and Threats of Doom (Jan. 2021)
New: https://www.goodreads.com/book/show/56918041-fake-invisible-catastrophes-and-threats-of-doom
Confessions of a Greenpeace Dropout – The Making of a Sensible Environmentalist which documents his 15 years with Greenpeace and outlines his vision for a sustainable future.
https://www.abebooks.com/9780986480829/Confessions-Greenpeace-Dropout-Making-Sensible-0986480827/plp
If you are in need of prayer please reach out to our Prayer Team @ [email protected] 
Remember: Freedom of speech, thought, belief and the right to life, liberty and security of the person are guaranteed. We do not need to beg, barter or ask for them…these are God-given inalienable rights and ours for the taking..
As Action4Canada continues to courageously defend Canadians rights and freedoms we ask that you would please consider courageously giving, either a one time donation or becoming a monthly donor.  Help Action4Canada continue to bring solutions and hope to the nation!
God bless you and God bless Canada!
The Team @
Action4Canada