Enough of the Wokeness
It's Time to Get Back to Reality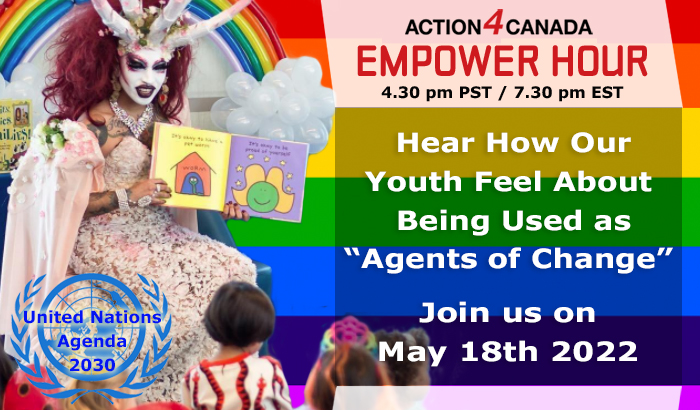 When: Wednesday, May 18th, 2022 4:45pm PST/7:45pm EST Register in Advance
Join Action4Canada May 18 and hear from our youth. They are crying out for help after years of being exposed to woke curriculum. It's time for propaganda and political correctness to take a back seat! It will be a special evening with our youth and program leader, Dr. Greg Gerrie along with co-leaders Tanya Gaw and Heather Fournier.
Action4Canada is creating a Youth Freedom Movement. In April 2022 we commenced our first youth leadership program. Dr. Greg Gerrie, founder of Kid Talks, and an Action4Canada Chapter leader, taught the program with 80+ youth in attendance. On May 20, 2022 we will have completed our first eight week program. The results and feedback from the youth is amazing.
A4C is focused on educating youth, giving them a voice and teaching them how to advocate for themselves and effectively engage their peers, as well as the authorities in their lives, with respect and confidence. In addition, they also learn about the Constitution, the Charter of Rights and Freedoms and Social Issues. 
As part of the program the youths write a speech and submit it on video. You can listen to some of their powerful speeches HERE.
Parents and child care givers, our kids are under attack and Action4Canada is creating awareness and providing solutions. It is critical that you educate yourselves on what our kids are being exposed to and then join us in tangible actions to protect the hearts and minds of the future generation! Please view the following Actions… HERE and HERE (warning graphic images).
Remember: Freedom of speech, thought, belief and the right to life, liberty and security of the person are guaranteed. We do not need to beg, barter or ask for them…they are ours for the taking.
Please consider becoming a monthly donor and help Action4Canada continue to bring solutions and hope to the nation!
God bless you and God bless Canada!
The Team @
Action4Canada