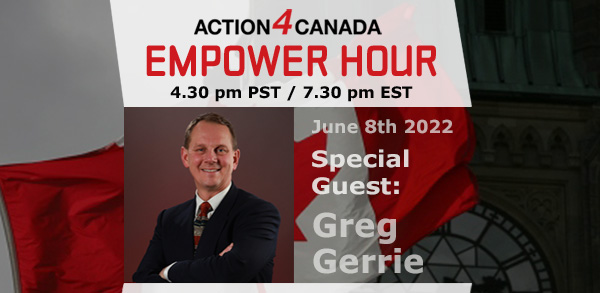 When: Wednesday, June 8, 2022 4:45pm PST/7:45pm EST Register in Advance
Greg Gerrie is back to provide us with a global geo-political update and how it is, and will, affect us in the days to come.
Greg will talk about the elite's take over of banking and Global Finance, GESERA/NESARA/RV (plan to bring wealth back to the people), silver/gold, crypto, markets, RRSP's, pensions and investing in commodities. Commodities that include precious metals and real-estate as well as tradeable commodities such as seeds, alcohol, and cigarettes.
Cryptocurrency is more and more being reported as volatile and you should only invest if you have money to lose. Crypto fraud is on the rise…what can we expect from a digital currency.
Trudeau and his global buddies have destroyed Canada's once thriving economy. The intention all along has been to obliterate the middle class, impoverishing citizens, and instigating the greatest wealth transfer in the history of the world. Canadian citizens need to take immediate action as we have a window of opportunity to turn this around. We also need to prepare for some hard times as these tyrants interfere with food supply chains, trade and so much more.
It is critical that Canadians prepare. As Greg says,  "Its cheap to prepare, expensive to react."
This is a great Empower Hour to bring a friend to because most everyone is concerned for their economic future.
For more info on this subject view HERE
Greg Gerrie:
www.GregGerrie.com
[email protected]
GOLD SILVER WEBINAR
Remember: Freedom of speech, thought, belief and the right to life, liberty and security of the person are guaranteed. We do not need to beg, barter or ask for them…they are ours for the taking.
If you are in need of prayer reach out to our Prayer Team @ [email protected] 
Please consider becoming a monthly donor and help Action4Canada continue to bring solutions and hope to the nation!
God bless you and God bless Canada!
The Team @
Action4Canada