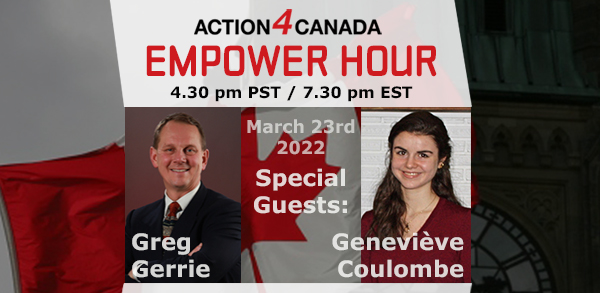 When: Wednesday, March 23, 2022 4:45pm PST/7:45pm EST Register in Advance
Special guests: Action4Canada Freedom Youth Movement leaders, Dr. Greg Gerrie and Geneviève Coulombe.
Geneviève Coulombe, a 14 year old homeschooler and a passionate freedom-fighter from Osoyoos, has joined the Action4Canada team. Geneviève has become a youth activist, using her voice to proclaim truth whilst being an example for others to do the same. When Geneviève is not studying, or engaging in the community, whether at home or with other groups, she spends time reading as well as singing.
Dr. Gerrie…Author – Teacher – Pastor – Freedom Fighter…has a degree in economics and also degrees in Education and a doctorate in Theology. Dr. Gerrie loves to teach and is passionate about bringing the truth to people. Greg has taught grades 6 to 12 in both public and private schools. After becoming dissatisfied with the school system, he started the Teen Power Program, the Teacher Vitality Program and also travelled with the Esteem Team delivering the High Self Esteem Kids Program to parents across BC. 
Dr. Greg is also the founder of KidTalks which teaches children ages 6 to 16 how to think critically and speak on stage with truth, power and influence. Action4Canada will be hosting Dr. Greg Gerrie in teaching an 8 week youth leadership training program to help equip and empower our youth starting Friday, April 1, 2022. Sign Up HERE
The motto of Kidtalks is: Right Heart – Right Mind – Right Voice
Greg earned degrees in Economics and Education from Queen's University. He went on to do his Masters in Marketplace Ministry and a Doctorate of Ministry in Leadership from Primus University of Theology in Phoenix Arizona. He is also trained in military leadership with the Canadian Air Force and has 130 hours on the CT114 Tutor, which is the aircraft used for the Snowbird Aerobatic Team.
Greg is author of the book Fired Up For Life – How To Get & Stay Motivated and has travelled the globe delivering programs on leadership and motivation to the corporate world.
As the People's Economist Greg also teaches on the corrupt banking system and why people should own precious metals and crypto currency. Greg will be joining the Action4Canada Empower Hour team in the near future to discuss this very import issue. Stay tuned.
Greg is also a pastor at Ekklesia 12 church in Langley, BC, ministering to both adults and youth.
Remember: Freedom of speech, thought, belief and the right to life, liberty and security of the person are guaranteed. We do not need to beg, barter or ask for them…they are ours for the taking.
Please consider becoming a monthly donor and help Action4Canada continue to bring solutions and hope to the nation!
God bless you and God bless Canada!
The Team @
Action4Canada