What Should You be Doing With Your Cash?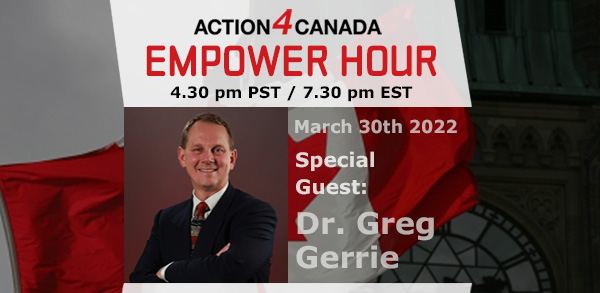 When: Wednesday, March 30, 2022 4:45pm PST/7:45pm EST Register in Advance
Empower Hour with Dr. Greg Gerrie. What is the truth about the Central Banking System and what should you be doing with your cash?
Dr. Greg Gerrie will help educate us on the Central Banking System, Fiat Currency, investing in gold, silver and the right crypto currency.
Dr. Gerrie…Author – Teacher – Pastor – Freedom Fighter…has a degree in economics and also degrees in Education and a doctorate in Theology. Dr. Gerrie loves to teach and is passionate about bringing the truth to people. 
More About Dr. Gerrie:
Dr. Greg earned degrees in Economics and Education from Queen's University. He went on to do his Masters in Marketplace Ministry and a Doctorate of Ministry in Leadership from Primus University of Theology in Phoenix Arizona. He is also trained in military leadership with the Canadian Air Force and has 130 hours on the CT114 Tutor, which is the aircraft used for the Snowbird Aerobatic Team.
Greg is author of the book Fired Up For Life – How To Get & Stay Motivated and has travelled the globe delivering programs on leadership and motivation to the corporate world.
When Dr. Gerrie is not teaching on Economics he is teaching leadership and public speaking to children and youth, ages 6 to 19. In fact, Action4Canada will also be hosting an event with Dr. Greg who will be teaching an 8 week leadership training program, starting April 1, to help equip and empower our youth to be strong, confident, leaders of tomorrow. Register your youth HERE.
As the People's Economist Greg also teaches on the corrupt banking system and why people should own precious metals and crypto currency. 
Greg is involved in a global system to help people gain full control of their finances. https://ca.linkedin.com/in/greggerrie
You won't want to miss this Empower Hour. Please invite a friend…or five. 🙂 Register in Advance (You will receive a follow up email to confirm)
Remember: Freedom of speech, thought, belief and the right to life, liberty and security of the person are guaranteed. We do not need to beg, barter or ask for them…they are ours for the taking.
Please consider becoming a monthly donor and help Action4Canada continue to bring solutions and hope to the nation!
God bless you and God bless Canada!
The Team @
Action4Canada